The Complete Guide to Instagram Shoppable Posts
When it comes to online shopping, simulating the experience of being in an actual physical store can be challenging. The layout and visibility of products along with information like prices and sizes, the ability to quickly inquire about a product, simplicity in payments, etc. are all vital.
Even the most straightforward eCommerce stores can be quite the puzzle for some shoppers. This is partly why the product page is such a crucial element of selling online. Admittedly, most of what sellers try to achieve with a product page can be done on social media.
A platform like Instagram offers an effective avenue for displaying product images, descriptions, and other relevant product information. Even better, Instagram provides a great opportunity to promote these products to a large audience organically or through paid advertising.
However, the inability to share links within Instagram post's captions doesn't bode well for the conversion journey. You have to hope that a shopper is captivated enough to trek back to the "link in bio". Such barriers can prompt someone to save the post or its key information for later, and possibly forget about it.
Don't you just wish there was a way to pack more of your eCommerce website's functionality into these posts? Well, shoppable posts are a suitable answer to this problem.
What Are Shoppable Posts?
A shoppable post is one that allows you to embed product information within an image or video by tagging that item. It's a simple way to use Instagram shopping features without having to rely on story swipe-ups. More importantly, a shoppable post enables a shopper to proceed to that product's page on your website and buy. A core objective here is to ensure the shopper can checkout with only a few clicks or taps on their screen.
How To Set Up Shoppable Posts?
Before you can start making shoppable posts, you need to set up an Instagram Shop first. This is more like a copy of your website's product catalog built into your Instagram profile and accessible at the tap of the "Shop" button which would be displayed on your profile page.
However, to create an Instagram Shop, you need to first set up a Facebook Shop since that's where your product information is imported from. This can be done in one of two ways:
Create a Facebook business page – This is the primary option for those whose eCommerce websites aren't compatible with their Facebook pages. In this case, you'd have to manually create product listings for your shop. You'll also have to manage your page and website orders separately.
Synchronize your eCommerce website with your page – If you're using a platform like Shopify for your eCommerce store, you can simply sync your website's product catalog with your page. This means that you won't have to recreate your product listing. Additionally, you can manage all orders made via your Facebook page within your Shopify dashboard.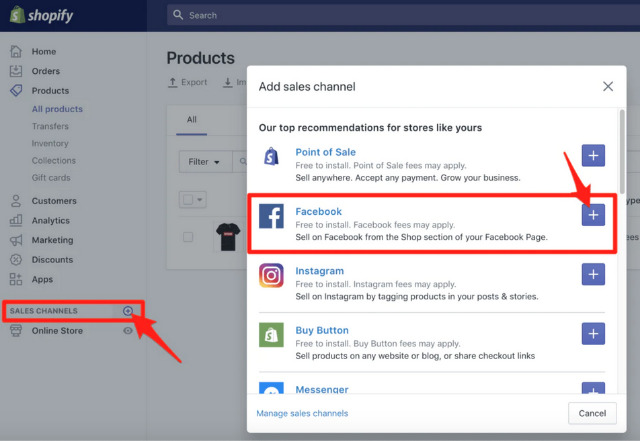 Once you're done with the synchronization, there are a number of steps to take before your Instagram Shop is up and running:
Make sure you're planning to sell tangible products not services, and they should fall under Facebook's eligible physical goods. You must also adhere to Instagram's commerce policies and be in a country where the Instagram shopping feature is available.
Ensure that you update your app to the latest version. Proceed to the settings and switch to a business profile, then go to the "Linked Accounts" option and link the Facebook page. You have to be an administrator on the Facebook page to do this.
Add your products to your Facebook Shop. If you already have a Shopify store with a product catalog, you can go to the settings in your Shopify dashboard, continue to the "Sales Channels" option and add your Facebook page.
You can then proceed to the product manager in your Shopify dashboard, select products you want to add to your Facebook Shop and select "Make Products Available" from the Actions dropdown menu. Return to your sales channels list, add Instagram and wait for approval.
Once approved, you can tap "Get Started" on the notification or go to your Instagram business settings and select "Shopping", then confirm the Facebook Shop to be used with your Instagram profile. At this point, you'll have a "Tag Products" option whenever you're creating a new post.
At this point, you should also be able to see shopping bag icons on posts indicating that they are shoppable.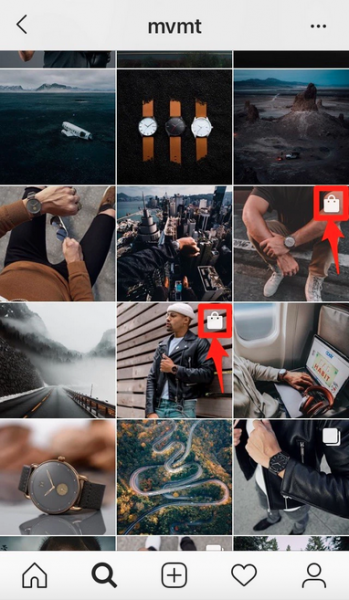 How to get the most out of Shoppable Posts
Having all the above boxes checked doesn't mean that you'll be smiling all the way to the bank. There are still a number of things you have to stay on top of if you're to make the most out of shoppable posts:
Use good visuals
On Instagram, picture quality is key. But, when it comes to shopping, good visuals are more than just crisp clear photos. Pay attention to the way a product appears in the photo and make sure its best parts are clearly visible.
If you're going to put multiple items in the same photo, make sure they complement each other. Throwing a bunch of fashion items in the same picture may seem okay since each one is individually appealing. However, some may not be effective if a shopper can't see them making a complete outfit. Where the budget allows, use some models for your products or get a space where you can stage them to show how they'd look in real life.
The World Market Instagram shop is a solid example of using good visuals that go beyond picture quality.
Your visuals should also suit the overall theme of your account and complement each other. It's imperative to get branding right. Before you publish, use an Instagram post planning tool, to preview how the visual looks in your feed.
Making compelling visual images doesn't have to be a marketing bottleneck. Keep it simple and understandable. If the visual suits the overall theme and what your audience likes to see, you will get more clicks and traffic. If you fail to manage the desired traffic, then you may find out more to buy real followers on Instagram.
Tag products correctly
Remember that one of the main goals is for people to proceed to your shop and eventually buy. But if someone taps on a product that is clearly a blender yet the tag shows that it's a toaster, they might perceive your shop as disorganized and not worth their time.
Even if a shopper isn't paying that much attention when tapping, they'll still find themselves on the wrong product page and may not have the patience to browse through your entire catalog looking for the right information. Always double-check your tags before you send out the post.
Space out the tags
If every other item within your post has a shopping tag, a shopper may feel a little bit overwhelmed. Keep in mind that a lot of shoppers usually don't have their minds made up when browsing through these social media posts. You may have an attractive product that could have been sold, but if there are too many equally appealing products, a shopper may become a little more indecisive and even hold off on buying.
You don't always have to tag every item in the photo. Identify the most standout item within the ensemble and make sure you tag it. You can always take other pictures that highlight different products. Remember, there's likely to be one that will draw the shopper in and make them want to buy.
Write persuasive captions with hashtags
While some details of your product information such as price can catch shoppers' attention, you need something that speaks to their emotional side too, not just their logical side. Say you're selling shorts, bikinis, and swimsuits, something like "show off that new summer body in this sunflower yellow 2-piece… #hotgirlsummer" could apply.
Here, you're doing more than just telling people about the product. You're inviting a shopper to envision themselves having a good time while using the product. Where possible, get someone with good copywriting skills to prepare captions for each of your posts.
Try to stay up-to-date on market trends. This means you can avoid using outdated slang and catchphrases referencing pop culture moments that have already gone. You can learn more about how to optimize your hashtags and appear in the "Explore" by simply studying the explore page.
Schedule your posts at the best time
It is important to carry out customer research and gain a better understanding of social media shoppers' behavior. The metrics you want are relating to the time they spend online. From when they get online, how long they spend there, what time of the day, day of the week or month they are most likely to purchase, etc.
This information is even more crucial if you're selling to people in different time zones. Ensure your posts go out at the time when they are likely to get the most impressions across different regions and demographics. Typically, users spend an average of 30 minutes on Instagram each visit. And, the average engagement rate for Instagram business accounts is 0.96%.
Such statistics can help you refine your posting schedule to maximize conversions. Don't just post because you're excited about finally adding the product to your catalog and you want to be the first person to say that you have it available.
Respond to comments
After putting in all the work required to make shoppable posts, you might want to believe that shoppers have all the information they need to buy. However, this most probably won't be the case. Especially since different customers have varying inquiries about return policies, sizes, shipping rates, and options, etc.
If you're getting a lot of comments on your posts, it doesn't mean your audience aren't savvy online shoppers. See the positive, which may be that shoppers find your posts captivating enough to want to know more. Structure your schedule so when posts go out, you have enough time to quickly respond to any comments made. If potential customers feel ignored, they may opt for another store.
Promote with ads
It goes without saying that at some point, you'll hit the ceiling of organic reach. This doesn't necessarily mean that you've run out of interested people to speak to. Set aside some funds that you can use to promote your shoppable posts so they can reach a wider audience.
It's not as complicated as it sounds. There are plenty of Facebook ads courses you can use to learn how to optimize your Instagram campaigns to the fullest.
Conclusion
All in all, endeavor to be analytical when using shoppable posts. Take note of the products people tap on or ask about the most. Also note the times when you get the most impressions, and any other relevant patterns, etc. Using shoppable posts is a continuous effort.
You may not get it right the first time but if you pay close attention to the tiniest details, learn and apply those lessons, you'll soon get the hang of it. Some of the processes involved may require more expertise than you have, but you can always get comprehensive assistance from teams like Digital Hill.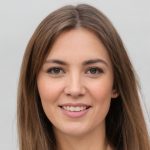 Rachel Bowland is the content manager at Social Marketing Writing and Creatiwitt.
She likes to write about marketing and design.