Website Features Every Public Library Needs
[fusion_builder_container hundred_percent="no" equal_height_columns="no" menu_anchor="" hide_on_mobile="small-visibility,medium-visibility,large-visibility" class="" id="" background_color="" background_image="" background_position="center center" background_repeat="no-repeat" fade="no" background_parallax="none" parallax_speed="0.3″ video_mp4="" video_webm="" video_ogv="" video_url="" video_aspect_ratio="16:9″ video_loop="yes" video_mute="yes" overlay_color="" video_preview_image="" border_size="" border_color="" border_style="solid" padding_top="" padding_bottom="" padding_left="" padding_right=""][fusion_builder_row][fusion_builder_column type="1_1″ layout="1_1″ background_position="left top" background_color="" border_size="" border_color="" border_style="solid" border_position="all" spacing="yes" background_image="" background_repeat="no-repeat" padding_top="" padding_right="" padding_bottom="" padding_left="" margin_top="0px" margin_bottom="0px" class="" id="" animation_type="" animation_speed="0.3″ animation_direction="left" hide_on_mobile="small-visibility,medium-visibility,large-visibility" center_content="no" last="no" min_height="" hover_type="none" link=""][fusion_text]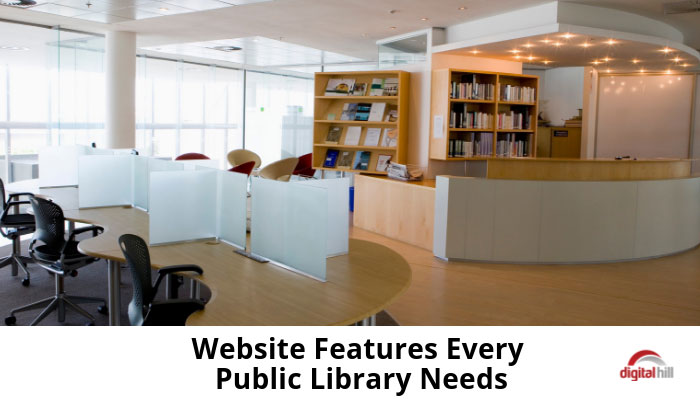 Public libraries are places of intellectual refuge and community building. They're where people go to study for school, research on interesting topics, or simply relax with a bestseller. They're also fast becoming social spaces designed to serve the community. For example, many public libraries run programs for the homeless to help them find employment and engage in many other fruitful opportunities. Others run bookmobiles to make books accessible to more people. Those are just a couple of ways public libraries serve the community.
Thus, it's only reasonable to expect the websites of public libraries to be digital refuges in their own right as well. The way to achieve that is through implementing good design. The website features every public library needs:
Simple Website navigation
Option paralysis is real. If you present too many website navigation choices on the front page, visitors are likely to feel overwhelmed, causing them to leave instead of browsing through. It's best to show only a few options (five to six top items at most) in the main menu and put more extensive sub-menus under each option.
Prominent search box
Most people are looking for something specific when they visit public library websites, so the search box should be easy to spot and present on every page. If the website offers advanced search with more parameters, keep the other options hidden until a visitor performs an actual search. It will lessen confusion if there's only one search box visible on the page.
Understandable language
Industries have their own jargon, and the library and information services industry is no exception. Still, visitors of public library websites are average people, so they're not familiar with library talk. Use layman's language instead, and if jargon can't be avoided, provide an explanation of the terms used. Don't rely on a glossary; most people will not bother switching tabs and pages to try to understand what is being said.
Timely content
Much of the information on public library websites are static or evergreen (a.k.a, contact information, location, about us). However, some details are not, like ever-changing catalogs. Thus, push the freshest content to the forefront so that visitors will have an incentive to go back for repeat visits. It's also a good way to promote whatever other activities the library engage in, like new community programs and initiatives.
Accessible web design
Public libraries cater to all kinds of people, including people with disabilities. So it only makes sense to ensure public library websites are accessible to all as well. The Web Content Accessibility Guidelines (WCAG) 2.1 laid out a set of guidelines to follow to make websites accessible. There are three levels of conformance: A, AA, and AAA. The idea is to reach at the very least A and work from there.
Nowadays, people check out establishments and institutions online first before they pay a visit in person. With this in mind, the experience they get when using public library websites should motivate them enough to go to the actual library after. Converting digital visits to real-life visits is important if we want public libraries to continue thriving even in this digital age.
Does your library website need a redesign, contact us to discuss!
[/fusion_text][/fusion_builder_column][/fusion_builder_row][/fusion_builder_container]