What You Need To Think About Before You Build an E-Commerce Store
[fusion_builder_container hundred_percent="no" equal_height_columns="no" menu_anchor="" hide_on_mobile="small-visibility,medium-visibility,large-visibility" class="" id="" background_color="" background_image="" background_position="center center" background_repeat="no-repeat" fade="no" background_parallax="none" parallax_speed="0.3″ video_mp4="" video_webm="" video_ogv="" video_url="" video_aspect_ratio="16:9″ video_loop="yes" video_mute="yes" overlay_color="" video_preview_image="" border_size="" border_color="" border_style="solid" padding_top="" padding_bottom="" padding_left="" padding_right=""][fusion_builder_row][fusion_builder_column type="1_1″ layout="1_1″ background_position="left top" background_color="" border_size="" border_color="" border_style="solid" border_position="all" spacing="yes" background_image="" background_repeat="no-repeat" padding_top="" padding_right="" padding_bottom="" padding_left="" margin_top="0px" margin_bottom="0px" class="" id="" animation_type="" animation_speed="0.3″ animation_direction="left" hide_on_mobile="small-visibility,medium-visibility,large-visibility" center_content="no" last="no" min_height="" hover_type="none" link=""][fusion_text]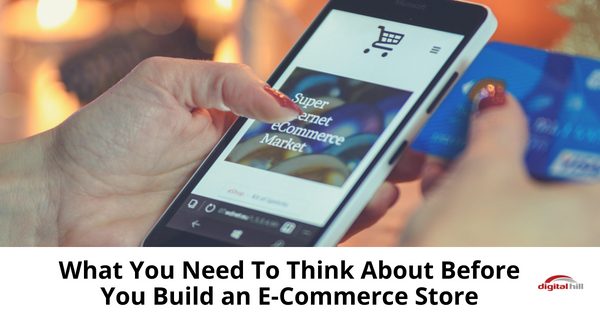 E-commerce is the fastest growing area in retail. According to many reports, there are currently nearly 24 million online stores on the internet with the number growing every single day.
Many factors have contributed to this fast growth including the ease of opening an e-store, lower costs, access to global markets, 24-hour availability, and the increasing use of digital shopping among consumers. Last year, for instance, e-commerce sales accounted for 11.7% of total retail sales, a 15.1% increase from 2016.
For these reasons, more and more Americans are considering opening an e-commerce store.
Get Started On the Right Foot
Unfortunately, running an e-store is not easy. According to Dandy Loop, only 11% of e-stores sell more than $1,000 per year. And it gets worse. Nearly 80% of all e-commerce stores go out of business within a year.
Here are the top three things you need to think about if you want to get started on the right foot.
What are you going to sell and where will the products come from?

Pretty much anything that sold in a physical store can be sold online. But, to increase your chances of success, it's essential to pick a small range of items. Ideally, you should choose a class of items you have a passion for. You'll need to provide detailed product descriptions and compelling ads to woo customers.

As for finding a supplier, choose one that gives you all the products you need, when you need them, and at the right price. At first, find a supplier that's willing to ship the products directly to the customer. This eliminates the need to tie up capital in unsold products. Also, you'll avoid warehousing and shipping costs.

How are you going to build and host your site?

You have two options here.  First, you can sell on Amazon and E-Bay that give you space in their malls. This means that you don't have to worry about hosting or web design at all. A major downside, however, is that you'll have hundreds of similar sites and products to compete with.

The second option is an e-commerce platform like WordPress WooCommerce or Shopify that give you the tools to sell your items on your own website. Shopify will host your website as well.  But, with both platforms, you'll need to build your own website. If you choose to go this route, these platforms have a variety of quality shopping carts, payment gateways, high risk merchant accounts, and marketing tools.

How will you generate leads and close sales?

After setting up your store, you need to bring in leads and get them to buy from you. How will you do this? Where will the leads come from? Which countries? Which age groups? How will you appeal to customers? What will you do to get them to take action? How do you make them return in the future?
The good news is that you have plenty of options here. Social media marketing can help you reach targeted audiences. Networks like Facebook will even give you the demographics of individuals to help you fine-tune your targeting. You can also turn to email marketing to generate leads. And you'll need to blog. Blogs showcase your authority on a topic and can help you develop a presence in the industry which is vital in generating leads.
Thinking about starting an e-commerce website of your own? Digital Hill can help you.
[/fusion_text][/fusion_builder_column][/fusion_builder_row][/fusion_builder_container]