Shopify vs WooCommerce for E-Commerce Stores
[fusion_builder_container hundred_percent="no" equal_height_columns="no" menu_anchor="" hide_on_mobile="small-visibility,medium-visibility,large-visibility" class="" id="" background_color="" background_image="" background_position="center center" background_repeat="no-repeat" fade="no" background_parallax="none" parallax_speed="0.3″ video_mp4="" video_webm="" video_ogv="" video_url="" video_aspect_ratio="16:9″ video_loop="yes" video_mute="yes" overlay_color="" video_preview_image="" border_size="" border_color="" border_style="solid" padding_top="" padding_bottom="" padding_left="" padding_right=""][fusion_builder_row][fusion_builder_column type="1_1″ layout="1_1″ background_position="left top" background_color="" border_size="" border_color="" border_style="solid" border_position="all" spacing="yes" background_image="" background_repeat="no-repeat" padding_top="" padding_right="" padding_bottom="" padding_left="" margin_top="0px" margin_bottom="0px" class="" id="" animation_type="" animation_speed="0.3″ animation_direction="left" hide_on_mobile="small-visibility,medium-visibility,large-visibility" center_content="no" last="no" min_height="" hover_type="none" link=""][fusion_text]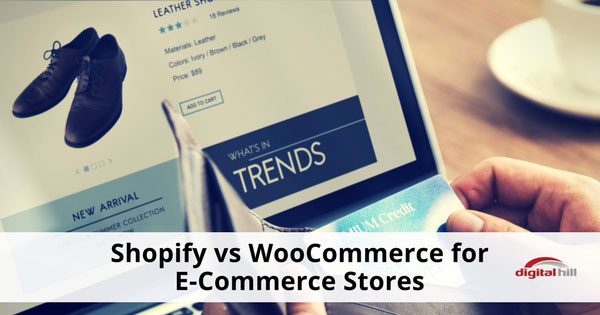 The most popular e-commerce platforms right now, Shopify and WooCommerce are both phenomenal tools that give you access to most everything you need to successfully run an online store. What's more, both platforms are easy to set up and already boast a robust online presence that gives store owners an edge in the increasingly competitive market of eCommerce platforms.
So, the question is – which one should you choose when getting started with e-commerce?
To help you make an informed decision, we compare the two platforms based on standout features, cost, payment options, and integrations and add-ons.
Definition and Standout Features
Shopify is an online, hosted web software tool that lets you build an online e-commerce store without any coding. Some of its standout features include:
Unlimited file storage
Manual order creation
Free SSL
Editable HTML and CSS
Automatic fraud analysis
A fully featured mobile app
WooCommerce is a WordPress plugin packed with a host of e-commerce functions. Some of its standout features include:
Ability to sell physical as well as digital products (e.g., software)
Excellent affiliate marketing functionality
Adjustable shipping rates
Thousands of free plug-ins
Works with WordPress themes
Cost Comparison
Shopify and WooCommerce have different pricing plans to consider carefully before making a decision.
With Shopify, the basic plan costs $29 a month, but you have the option to upgrade to a $79 a month plan or the Advanced Shopify plan which costs $299 a month. Each plan comes with a domain name, an SSL certificate, and web hosting.
WooCommerce, meanwhile, is a free WordPress plugin. However, you'll need a domain name, WordPress hosting, and an SSL certificate, all of which cost money. A domain name typically costs around $14.99, WordPress hosting will cost on average around $29 a month, and an SSL certificate cost goes from free to several hundred dollars.  The key is ownership of the site code. With Shopify, it's theirs, with a WooCommerce cart inside of WordPress, you own the website code and can move it. With Shopify, you keep paying or you lose what you have built. It is yours to use but they own the code.
Payment Options
Another factor to think about is payment options. How are customers going to pay for the products they purchase?
Shopify offers plenty of payment options. It even has a special payment solution known as Shopify Payments powered by Stripe. Besides that, you can install an array of third-party payment gateways including PayPal, Stripe, etc. For Shopify Payments, Shopify charges a 2% fee while for third-party gateways, you'll be charged 0.5%.
In WooCommerce, PayPal and Stripe are built-in, and you can install add-ons for just about any payment gateway. Since it's a self-hosted platform, WooCommerce charges no fee on payments.
Integrations and Add-Ons
Finally, no matter how robust a platform is, you'll often need third-party tools and services for optimal performance. Both Shopify and WooCommerce provide a range of these.
Shopify comes with a powerful API and an App Store where you can find all the add-ons you need. Among others, you'll find add-ons for SEO, lead generation, discounts, countdowns, and email marketing. Some of the add-ons are free while others have a cost.
WooCommerce, meanwhile, offers over 50,000 free WordPress plugins and thousands of premium plugins. You can use the plugins to add lead generation tools, payment gateways, SEO elements, and many other features to your store.
It All Comes Down to Your Needs
If you want a cost-effective solution that gives you full control and total ownership of your web store code, go with WooCommerce. If you want a hassle-free platform with infinite scalability that you can use, then Shopify may be the platform to start with.
[/fusion_text][/fusion_builder_column][/fusion_builder_row][/fusion_builder_container]