5 Effective Ways to Boost Traffic to Your Website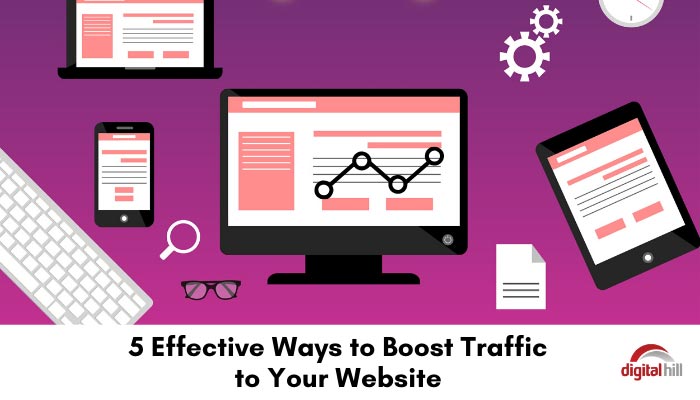 On the web, traffic to your site is the primary goal. The more traffic you can get to your website, the more potential leads and sales you're likely to gain. This, therefore, means that marketers often need to devote a significant portion of their time and resources to boost traffic to your website.
5 Proven Strategies to Effectively Boost Traffic to Your Website
1.  Write Great Content
If you want great traffic, you have to write great content! Content must be value-adding, resource-rich and leave the reader satisfied with what they've learned.  There is no short-cut to boosting traffic when it comes to content. Google wants to rank sites that provide the best resources to people, so you need to first and foremost write great content for the people you want to attract to your website.
2. Optimize for search engines
Search engine optimization is, by far, one of the most critical steps in generating more website traffic. If your website is poorly optimized or just not optimized at all, your goose is cooked. Your site will rank poorly, leading to poor visibility on search engines and, ultimately, meager traffic. Even worse, the few visitors who do land on your website will likely have a bad experience, thus often never returning.
So, in the search for increased website traffic, your first job is to optimize your site thoroughly. Ensure that your website is fast enough when loading (2 seconds or less!), be sure to optimize for mobile searches, eliminate 404s for pages not found and other errors. Additionally, make navigation easy and straightforward on every page.
3. Perfect your link building campaign
In the new year, you need to amplify your link building efforts. The best place is with your internal links. This means to link internally from different articles to other related articles within your site. Make sure that all your most crucial resources are accessible from the homepage via internal links as well. It is also advised to use multiple internal links within your site content. For the most part, use keywords, long-tail keywords, your brand name, and product names as anchor text.
When it comes to external link building, it may be best to use a tool such as Ahrefs to evaluate your efforts. Link to as many authority websites as possible and use Ahrefs to monitor the performance of each backlink.
4. Engage in better blogging and guest blogging
When it comes to blogging, quality and value are the most important factors. Performing keyword searches using tools such as Google's Keyword Planner and leveraging long-tail keywords are standard practices.
However, there are a few new trends that may help separate you from the crowd. These include making video part of your blogging strategy and becoming a member of community blogging sites such as Medium. Additionally, invest more in guest blogging on other sites to build credibility for your work and to build links back to your site, and consider becoming a contributor on larger websites such as Forbes, Huffington Post, Entrepreneur or others like them.
5. Tap into your social media presence
Social media, if used well, can help you generate a substantial amount of website traffic. Not only that, but social media can also boost your SEO ranking, which would, in turn, further boost your site traffic. But, the keyword is – used well. You must learn what to do and what not to do on social media for it to be successful.
First off, always use social media sharing buttons on your key website pages and posts so that others can share your content easily. When your social shares multiply, site traffic naturally increases. Secondly, consider using influencers and sponsored content. You'll get many more views and clicks by utilizing them. Above all, remain active on popular social networks and regularly post links to your site from your social channels.
6. Consider paid options
There are three broad options here, such as paid ads, press releases, and links. Paid ads are the best performing of the three. You can have ads on search engines, social media, community forums, and other platforms. Google's AdWords, Facebook ads, and Instagram ads primarily deliver the highest return on investment.
Press releases, meanwhile, are great for brand awareness. Your release may even lead to TV interviews, which can help with advertising down the line. Finally, link programs are where you pay for your content to be published on authority websites.
Other Alternatives
There are many other strategies you can use to generate more traffic for your site. With most consumers now using the internet as their first stop when researching, you must make sure your business can be found online. The five tips above are just a starting point to get your business noticed and boost traffic to your website.