5 WordPress Plugins to Automatically Share your Blog Posts to Social Media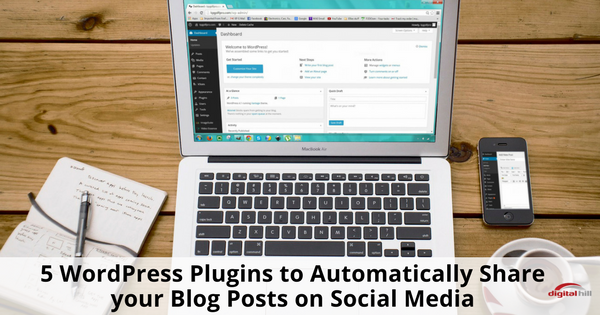 Social Media should be part of your overall online strategy. However, posting your content manually on social media can take lots of time and can be confusing going back and forth from your blog to social media platforms. Luckily, there are several WordPress plugins that can do this on autopilot.  Note that this should not be your ONLY or MAIN form of sharing on social media but it can help you get content out that is new.
1. FS Poster – WordPress Social Auto Poster & Scheduler
FS Poster is a WordPress Social Media Scheduler tool that increases your online community and engagements by auto-sharing your WordPress posts.  This makes it easier to increase the reach of your best blog content.  With this tool, you can auto-publish new blogs, repost old content, bulk schedule multiple posts and directly share individual posts on the top social media networks. It allows users to share blog photos, infographics, or videos on visual sharing platforms from WordPress.
2. JetPack
The plugin has lots of modules for adding a variety of features to your site. It gives you the ability to activate the features you want. This plugin is very robust and can replace a lot of other WP plugins.
The visitor engagement modules include
Sharing: Allow you to add social sharing buttons to the pages and posts
Site stats: It gives insights into  sources of your traffics through analytics
Publicize: Automatically shares new posts on your social media accounts
Related Posts: Displays related content so that your readers can stay longer on your site
2. CoSchedule
Coschedule works as a premium editorial calendar, and schedules social media posts, blog posts and other tasks for your content team within your WordPress site. Some of the features include:
Marketing Calendar: Allow you to plan, and publish all your WordPress content from your dashboard.
Social Media Calendar: It allows you to share content on all Social Media networks including Facebook, LinkedIn, Google+, and Pinterest right on the calendar.
Headline Analyzer: This tool analyzes your headlines before you post them on blogs and social media. This helps edit your headlines to make them more engaging.
This is a paid service and a bit on the higher side.
3. AccessPress Social Auto post
AccessPress allow you to share your content using posts, pages, media, and images on Social media platforms such as Facebook, Twitter, Pinterest, Google+, LinkedIn, and Digg using the latest APIs. The plugin is available in both free and paid versions.
The free version has five themes which you can use in social media posting. The Pro version has much more. The paid version has access to more social media platforms. Upgrade to the Pro version by paying a one-time fee.
4. OnlyWire
OnlyWire automatically picks and submits all your new posts to the social media accounts you've set up. The plugin has a Bookmark and Share tool that allows you to add share buttons on your blog or the site. You choose the social media networks to include the share buttons.
The plugin also allows multiple users and lets you set timed campaigns for automatic posting. You can use the analytics feature to determine your social media reach and traffic to all your shared content.
5. NextScripts SNAP Free and Pro
NextScripts SNAP automatically posts the content from your WordPress site to social networks such as Twitter, Facebook, Blogger, Deliicious, Tumblr, StumbleUpon, Diigo, LiveJournal, LinkedIn, Google+, Plurk, YouTube, and Vkontakte among others. You can also send your blogs as emails to your opt-in respondents using the MailChimp integration on the plugin.
The free features include message formatting tags, filters, auto-import comments, replies from social media, repost existing blogs, URL shorteners, and ability to spin messages before posting among other features. The paid version offers you access to schedule posting, add unlimited social media accounts, control auto reposting as well as advanced filters on your posts.
Remember, these tools are a starting point to help you share socially, not an endpoint or a good way to get social media engagement (which is needed).  Best practice is to use these simply to help share new content but they should be less than 40% of your overall social media sharing mix.