8 Things You Need to Know About Snapchat for Business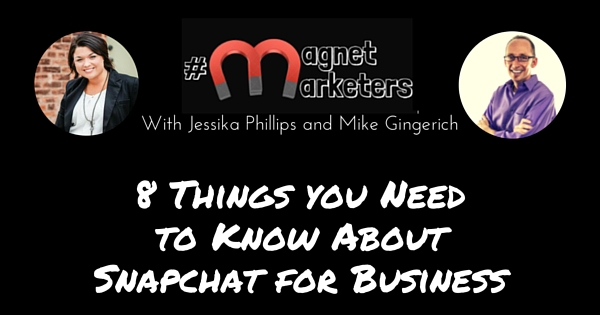 With over 100 million users, who "snap" 400 million times a day, Snapchat should be incorporated into your marketing strategy. We talked with Snapchat expert Saba Sedighi about the 8 things you need to know about Snapchat for business.
1. Snapchat's high engagement benefits business.
While Snapchat has less users than Facebook, Twitter, and Instagram, its users are very active. Via Snapchat, you'll engage with a higher percentage of users than on other networks, which means a higher ROI. In other words, Snapchat is a very efficient marketing platform.
2. Snapchat is great for targeting millennials.
Millennials – People between ages 18 through 25 – have enormous buying power and make up a large portion of Snapchat users. In the US, 71% of users are between 18 and 35. If you want to target this demographic, Snapchat is a necessity.
As we saw with Facebook, people between 40 and 50 – will join the network eventually. Using Snapchat to target older audiences right now allows you to establish a foothold for when they arrive and puts you ahead of the curve.
3. Snapchat is creative and versatile and can be used with other networks.
Snapchat lets you take risks you wouldn't take on other platforms because snippets last only a few seconds. The app includes geofilters drawing and text tools which allow you to get even more creative.
The same things that make Snapchat so dynamic also make it difficult to use as your only social media marketing channel. But Snapchat can be combined with Facebook, Twitter, and others for a cohesive cross-promotional campaign.
4. You can connect with your audience in a new way.
Blab, for instance, is good for creating long-form video content with other people. Snaps, on the other hand, are bits of "microcontent" that form a new type of blog – one with creative layers.
5. You can create storylines.
With Snapchat, you can mash up pieces of your day into a vlog that users can see all at once, and which you can add to as you go. You can speed videos up, slow them down, and play them backwards. You cannot go back and edit.
You can also send a personal snap, which will disappear after the recipient sees it.
6. Measuring engagement is simple.
Measure engagement to see how many people view your content. If your views go down throughout the day, you need to restrategize, but if your views increase, you're doing a good job of retention.
Whenever you send a personal snap, you can see if it was opened.
7. Geofilters are a unique marketing tool.
With geofilters, you can tag a place, time, temperature, and date, and you can create brand campaigns. The newest feature allows you to create custom geofilters for your brand or business. Other users can use your geofilter for their content too. You can monitor how many people saw or used your filter.
8. Start today.
Use Facebook, Twitter, and Instagram to tell your followers you are on Snapchat. Take advantage of the creative tools available. Engage with users, request feedback, and ask them to Snap you back, send a message or Tweet to you.
Remember, you can join Jessika and I live on Facebook every Tuesday afternoon at 4pm for Magnet Marketer Blab videocast online.
NOTE: Blab has went into sunset mode and the video is no longer available.