A Community Based Website for Shipshewana, In
[fusion_builder_container hundred_percent="no" equal_height_columns="no" menu_anchor="" hide_on_mobile="small-visibility,medium-visibility,large-visibility" class="" id="" background_color="" background_image="" background_position="center center" background_repeat="no-repeat" fade="no" background_parallax="none" parallax_speed="0.3″ video_mp4="" video_webm="" video_ogv="" video_url="" video_aspect_ratio="16:9″ video_loop="yes" video_mute="yes" overlay_color="" video_preview_image="" border_size="" border_color="" border_style="solid" padding_top="" padding_bottom="" padding_left="" padding_right=""][fusion_builder_row][fusion_builder_column type="1_1″ layout="1_1″ background_position="left top" background_color="" border_size="" border_color="" border_style="solid" border_position="all" spacing="yes" background_image="" background_repeat="no-repeat" padding_top="" padding_right="" padding_bottom="" padding_left="" margin_top="0px" margin_bottom="0px" class="" id="" animation_type="" animation_speed="0.3″ animation_direction="left" hide_on_mobile="small-visibility,medium-visibility,large-visibility" center_content="no" last="no" min_height="" hover_type="none" link=""][fusion_text]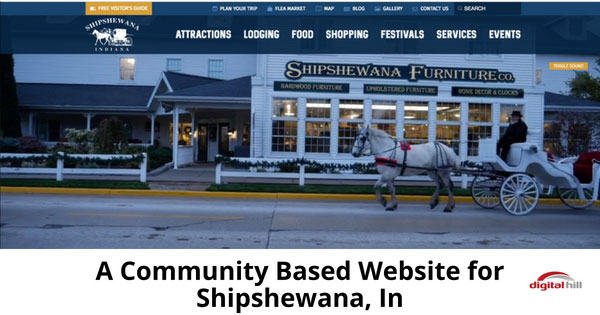 Welcome to Shipshewana, Indiana! Home to one of the largest Amish communities in the United States. Shipshewana (affectionately known as "Shipshe") is a town with a lot of heart and a lot to offer. The simple life can be found here, but it is certainly not boring.  Shipshewana needed a new website and Digital Hill was ready to assist!
With the assistance of Digital Hill, the town now has a website that showcases why thousands of people flock to this town yearly. If you wonder about the magic of a small town, a video on the homepage introduces the wonderful keys of Shipshewana. For a town that keeps tradition thriving, Shipshewana.com provides a 21st-century avenue for visitors to learn and journey to this charming, bustling location.
Ready to Experience the Beauty of Shipshewana?
Let's take a virtual tour of Shipshewana's website. The town might be small, but there is so much to do and see! There are so many offerings that it can be hard to track.
Starting from the navigation bar, visitors see an overview of all the fun as well as how to visit.
A Glimpse Into A Small Town That's Big Fun
Ride the carousel, visit a museum, see a musical, or go antiquing! If you're lucky to arrive during the right time, check out the local festivals!
The Amish are welcoming and there are plenty of opportunities to schedule tours of local Amish communities. Buggy rides are an excellent way to meet these plain people and have a unique experience.
Tourist-Friendly
With so many tourists visiting at all times of the year, there are plenty of things to do and events geared just for them.  This was key to highlight and allow the team to edit on the new website.
Find a Place to Stay – Finding lodging at one of the many bed and breakfasts, hotels or RV parks around the town is simple with detailed site directories.
Go Shopping – From hardware to clothing, toys, furniture, crafts, and locally made goods, there are plenty of shopping opportunities. Need help finding a location? The directory contains phone numbers, websites, and directions.
A Calendar Chock Full of Fun!
Visitors can take advantage of many events taking place in Shipshewana and stay updated with an interactive calendar with local event details.
Start Planning Your Trip
Ready to head to Shipshewana? Use the "Plan Your Trip" feature on the website! Planning your trip on your phone? Don't worry. The site is mobile-friendly!
Stay Connected to The Community
The community is vital to Shipshewana. From the melding of traditional Amish communities and the vibrant town life to the emphasis on inclusive community events, there is no shortage of friendly fun.
Digital Hill helped provide the town with an official site that emphasizes the community element of Shipshewana. Do you need a website for your business or community? Check us out!
[/fusion_text][/fusion_builder_column][/fusion_builder_row][/fusion_builder_container]