Add Installment Payment Options with Klarna Checkout for WooCommerce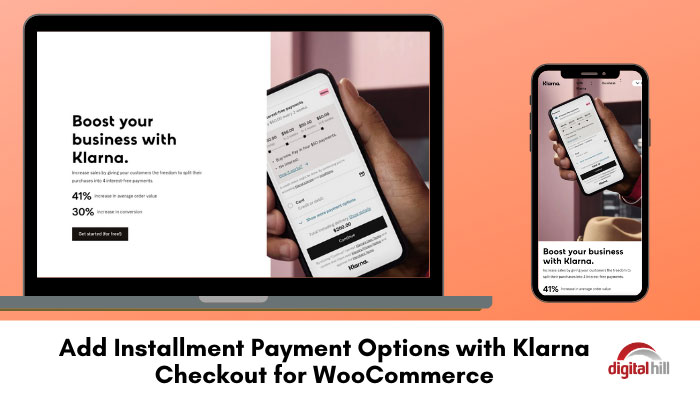 Klarna has recently gained popularity for its valuable range of services and outstanding customer experience. The platform provides seamless customer identification and allows businesses to accept all major payment methods. Above all, it's easy to use and very affordable.
So, should you consider using Klarna Checkout for your WooCommerce Store? It's important to know the facts to make an informed decision. As such, below is a summary of everything you need to know about this innovative checkout solution.
What is Klarna?
Klarna is what you'd call a complete checkout solution. It's a software product built to create the smoothest shopping experience for your customers. From effortless customer identification to card processing for all major credit providers. Additionally and possibly most importantly, point-of-sale credit financing.
The company was founded in Sweden in 2005 and expanded to the US in 2015. The point-of-sale feature is now available at 130 online merchant stores in 14 countries, including 3,000 stores in the US. Overstock.com, Lenovo, and TaylorMade are some US merchants that use Klarna.
How Does It Work?
It's a simple process. Once the customer has picked their products, they'll find the Klarna button (among many other options) on the checkout page. If they choose to checkout with Klarna, they just need to fill in some information. Klarna uses this information to determine whether the shopper qualifies for the purchase. If they are eligible, the customer can pay in one of four ways.
Buy now, pay later: The pay later option is a deferred payment program that gives shoppers an extra 14, 21, or 30 days to try out the product before payment.
Pay with interest-free installments: Whereas the first option requires the customer to pay in a lump sum, this second option allows for several installment payments over an agreed period. All installments are interest-free.
Pay over time with financing: This is another installment payment option, where payments are made monthly. However, it allows you to charge interest.
Pay now with direct payments: Finally, this is the traditional payment approach where the shopper pays for everything upfront – no installments or pay-later arrangements.
The merchant has access to a highly-customizable dashboard from where you can manage all transactions, including cards and APMs.
Klarna Benefits for Sellers
With credit financing built-in, the seamless shopping experience is a major selling point for Klarna and a significant advantage for sellers. Here are three of the potential benefits;
1. Increased conversions
With pre-filled information for returning customers and one-tap payments for everyone, shopping has never been easier. The result? More conversions and fewer shopping cart abandonments, leading to increased revenues.
Klarna exceeds customer expectations by making the checkout process shorter and more satisfying. Shoppers no longer have to worry about lack of funds as they can pay later. They can also pay in installments. There is really no better way to benefit your customers.
3. It's completely risk-free
On the first check, you may think that the seller bears all credit financing risk. However, that's not the case. The seller is always paid upfront in full – with Klarna taking the full credit and fraud risk for all purchases and on all payment methods. Also, if there's a return, Klarna covers the chargeback costs.
Getting Started with Klarna Checkout for WooCommerce
If this would benefit your eCommerce business, sign up for Klarna Checkout today. You'll get a Klarna account and access to the Klarna Merchant Portal. Then, install the Klarna plugin on your site. You will also need to download Klarna Order Management to handle orders directly from WooCommerce. Now you are ready to offer Klarna to your customers.