Advanced Map Feature Website: Hydro-Action.com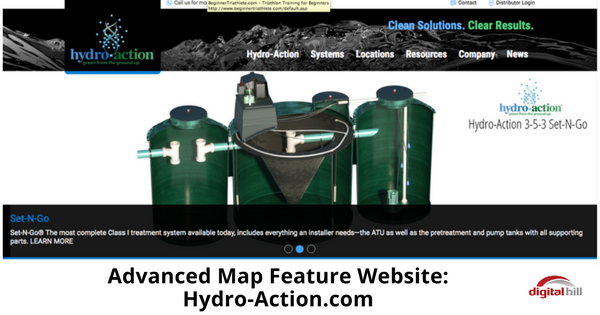 Hydro-Action, currently based in Indiana, has been manufacturing water treatment units since 1988. Now with a new website, the company can showcase their service to a wider audience.
Hydro-Action.com is designed to highlight the company. In addition, the site offers functionality for customers, potential dealers, and Hydro-Action. With a natural flow, Hydro-Action.com is quick to scan. Navigating the site is easy with its organized layout.
Each section of the site is focused on quickly giving visitors the information they search for. If additional information about Hydro-Action is needed, their contact information is conveniently displayed in the footer and above the navigation bar.
Among the site's most distinct features are:
Approval Map
Most noteworthy is the Approval Map which is a "must see" feature!  This map of the U.S. and Canada serves as an overview of the locations in which Hydro-Action has been approved. Hovering over each state provides information on approval status. Status ratings include Not Approved, Approved or the circumstances under which Hydro-Action can operate in a particular state. Hydro-Action can update the map as approval is granted in a state.
Hoverable Drop Down Menu
Another custom feature we designed for Hydro-Action's site is a hoverable drop down menu bar. This navigation bar functions by letting visitors hover their cursor over the menu to choose an option. For example, the Hydro-Action link on the navigation bar expands to link to information for engineers, homeowners, regulators, and installers.
Login for Distributors
Distributors and dealers of Hydro-Action products have a separate private login. The distributor login link is found just above the navigation bar.
Additionally, the Distributor Locator link functions for the purpose of finding the Hydro-Action dealer nearest you. This page has Google Maps embedded onto it for a quick zip code search.
News
A resource center is a great tool for keeping the site fresh. In addition, this keeps customers and distributors updated. The News page of Hydro-Action's site serves as the blog and is easily accessible from the navigation bar. Therefore the company can update and edit content on the blog as needed to keep visitors informed.
Mobile Responsive Design
Smartphone users do the majority of the internet searches. It's more likely the average site will be visited by mobile users. The new site is mobile responsive and will display well on desktop and smartphone screens.
Hydro-Action's new website was designed by Digital Hill. Need a website? Contact Digital Hill for your web design needs.