Best Payment Gateway Options for Your eCommerce Website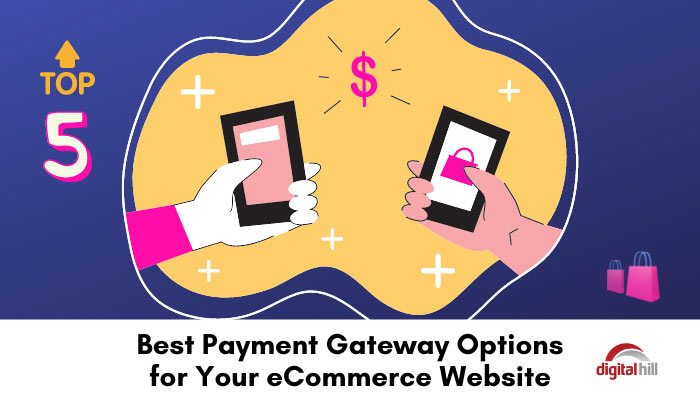 Choosing the right payment gateway for your eCommerce store is one of the biggest decisions you'll make in your online marketing. The right payment gateway encourages customers to come back because of the satisfying checkout experience. However, choosing the wrong gateway may cause you to lose even your most loyal customers.
Hopefully, you already know the most important factors to consider when choosing a payment gateway. These usually include;
Security
Ease of integration
Cost and billing method
Support of mobile payments
Availability in the target location
24/7 customer support
The 5 Best Payment Gateways in 2021
With the above factors in mind, let's look at five of the best payment gateways for eCommerce websites in 2021.
1. Stripe
Stripe is currently one of the most popular payment gateways worldwide. It's available in 40+ countries and supports over 130 currencies. Your customers can pay using credit or debit cards or they can choose to pay through Alipay, Apple Pay, or Google Pay. The best part is Stripe doesn't require setup charges or annual fees! Merchants simply pay 2.9% + $0.3 per transaction.
The checkout experience is also very satisfying for consumers. The gateway works excellently on both mobile and desktop. Stripe supports recurring payments and subscriptions. About 1.96 million active websites use Stripe in 2021.
2. Authorize.net
Authorize.net was established in 1996, two years before PayPal, meaning it's been in the digital payments processing industry for a quarter of a century. This makes it one of the most trustworthy payment gateways around today. The exact number of people on the platform is difficult to pinpoint. However, sources say around 450,000 businesses in Europe and four countries (the US, UK, Australia, and Canada) use Authorize.net.
Aside from the payment gateway, it provides a virtual terminal, merchant accounts, and mobile payments. Charges for this payment gateway are $25/month + $0.10 per transaction + a $0.10 daily batch fee.
3. Square
Square is another excellent payment gateway, especially for online shops that also have a store with physical locations. It launched back in 2009 when the idea of swipe-based smartphone transaction processing was trending, purposely to benefit physical commerce stores with an online presence.
The user base has since grown significantly. The platform currently has more than 30 million monthly users. The downside is that it's only present in five countries – the US, UK, Canada, Australia, and Japan. Square charges a flat-rate of 2.6% + $0.10 for swiped/tapped transactions and 2.9% + $0.30 for online transactions.
4. PayPal
Founded in December 1998, PayPal is one of the pioneers in the digital payments industry. As such, it comes with a great reputation. It's also very popular with consumers, boasting 361 million users currently. Indeed, PayPal accounts for 22% of online transactions in the US. Globally, around 87% of online shoppers have a PayPal account.
PayPal supports 25+ currencies globally and is available in over 200 countries. Charges range from $0.99 to $4.99 depending on account type and your sale volume. The PayPal experience in checkout can be a little less than ideal but the service is strong.
5. Shop Pay
Finally, Shop Pay is a payment gateway from Shopify that enables customers to save their details to their email addresses. This lets consumers checkout faster than ever before as they no longer need to type their address and payment information every time. All information is stored on encrypted PCI servers, so customers choose to pay with Shop Pay, all they need to do is enter their email address and the 6 digit verification code sent to them.
This option is available for all Shopify eCommerce stores and fees range from 2.4% – 2.9% plus $0.30 per credit card transaction, depending on your monthly plan.
Other Options
The five payment gateways above are, by far, the most popular among eCommerce merchants and customers. However, you can also consider Braintree, 2CheckOut, WePay, Payline, and also the new WooCommerce Payments for your online business. Whichever payment gateway you choose, ensure that it works for you and protects your customer's information.