Elkhart Public Library Website
[fusion_builder_container hundred_percent="no" equal_height_columns="no" menu_anchor="" hide_on_mobile="small-visibility,medium-visibility,large-visibility" class="" id="" background_color="" background_image="" background_position="center center" background_repeat="no-repeat" fade="no" background_parallax="none" parallax_speed="0.3″ video_mp4="" video_webm="" video_ogv="" video_url="" video_aspect_ratio="16:9″ video_loop="yes" video_mute="yes" overlay_color="" video_preview_image="" border_size="" border_color="" border_style="solid" padding_top="" padding_bottom="" padding_left="" padding_right=""][fusion_builder_row][fusion_builder_column type="1_1″ layout="1_1″ background_position="left top" background_color="" border_size="" border_color="" border_style="solid" border_position="all" spacing="yes" background_image="" background_repeat="no-repeat" padding_top="" padding_right="" padding_bottom="" padding_left="" margin_top="0px" margin_bottom="0px" class="" id="" animation_type="" animation_speed="0.3″ animation_direction="left" hide_on_mobile="small-visibility,medium-visibility,large-visibility" center_content="no" last="no" min_height="" hover_type="none" link=""][fusion_text]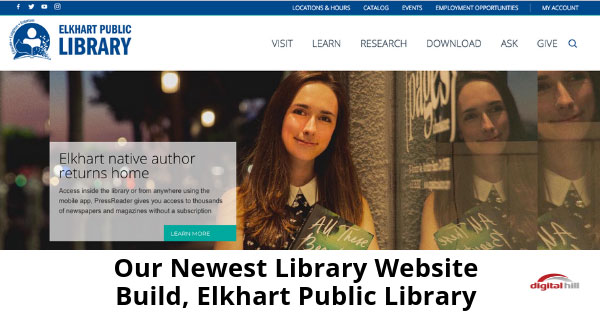 Libraries are powerful institutions that have served as centers of learning and education for centuries. Even as technology changes today, libraries continue to provide a gateway for people to access resources physically and digitally.
Introducing Our Newest Library Website: MyEPL.org
With a fresh look and simple navigation, the new library website makes it easy for community members to browse the library's collections and services.
Right from the navigation bar, visitors have access to thousands of library assets and resources. Therefore, with drop-down links, each navigation link allows you to find relevant information quickly and easily:
Visit

Gain access to accounts, general resources, and information about the library and locations.

Learn

Stay up-to-date on news and discover learning opportunities such as book club meeting, computer classes, and study help.

Research

Find books at other libraries, get research assistance, get access to a digital library and genealogy resources.

Download

Download books, movies, and newspapers.

Ask

Contact information for library and government information is at your fingertips.

Give

Donate or volunteer to the library.
View a "behind the scenes" peek at the website features.
Click the video to watch.

A Library Resource Site Dedicated To Serving The Community
Equipped with several features, the new website extends Elkhart Library's ability to continue empowering their community. Some of the highlights of the new website include:
Advanced Library Book Search
The robust, integrated search allows users to explore the library's collection, website, and upcoming events. Thus with just a keyword or two, you find a book for a research paper, a film for movie night, or the date the next book club will be held.
Book Meeting Rooms
Elkhart Public Library is truly a library of the people. When community members or businesses need a space to host an event, they can simply use the rooms in the downtown location.
While there is an option to submit an application in person or email, one can also book online. By scrolling over "Visit" and selecting "Book A Meeting Room", you can reserve a room for a particular date while also seeing a room's booking status and capacity. Furthermore, with a few clicks of a mouse and the completion of a simple form, people can book a room for their next meeting. All they need is an active library card.
Blogs
There are big things happening at the library. The site has several blog sections that can be managed by Digital Hill's easy-to-use WordPress management system. Hence, with the blog, Elkhart can keep readers updated on news and upcoming events.
Reserve Books
Is the book you need currently checked out?  The website allows cardholders to check the status of and reserve books from the comfort of their own home with the online catalog.
Location Finder
Which library location is nearest to you? Contact information, hours, and addresses to the 5 locations in Elkhart, Indiana. Need directions? The page comes embedded with Google Maps.
With a brand new website from Digital Hill, Elkhart Public Library can continue providing quality service to a thriving, diverse community.
Does your community library need a website to represent the best of your community? With decades of experience in creating dynamic websites for businesses across all industries, Digital Hill has the capacity to deliver a site that will best serve your business.
[/fusion_text][/fusion_builder_column][/fusion_builder_row][/fusion_builder_container]