Everything You Know About Marketing Has Changed Part 2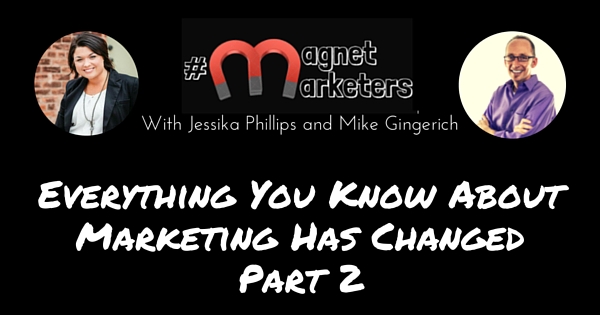 Marketing used to be simple. You'd craft advertisements for print, billboards or television hoping that customers would respond. You could be a bullhorn and just shout out your information. Now, however, with the dawning of social media and the web, many consumers expect a two-way conversation; consumers are asking questions and expect a response from you!
What's driven this trend?
The way people spend their time has changed. They're spending more time on social media, which is a two-way communication. In fact, 1 out of every 5 minutes spent on a mobile phone is spent on Facebook.
Mobile is another huge trend.
There are now more mobile phones than humans on earth. As of the end of 2014, the amount of internet traffic on mobile phones surpassed desktop use. Your potential customers are carrying your advertising delivery system in their pockets at all times. The average Facebook user checks their account an astounding 150 times per day. Consumers are craving instant gratification more than ever; if you make them wait to hear from you, you'll lose them.
Search engines are taking note of this, too. Because everyone is on mobile, search engines expect your website to be viewable on the devices that people are using. If your website is not mobile-friendly, then you'll be dinged by the search engines. Make sure your website is mobile responsive so your site can be viewed on all size screens.
Your website is your primary source of contact with your customers.
It's how people find you. With this in mind, the experience users have on your website is crucial. No matter what device they are using, they expect an easy, readable experience.
You must have a presence where your audience is.
For many of your customers, social media is the place to meet them.
Here are 3 things to consider for modern, two-way marketing:
Speed – Today's consumers demand immediate gratification.
Communication – Your consumers want a two-way conversation.
Interact on Their Own Terms – Consumers want to interact on their schedule, not yours.
Don't limit yourself.
Use multiple channels based on where your customers are. Always be aware of opportunities to build a relationship with your audience. Don't just be on social media, spend time reading posts and comments, then offer conversation that has real value.
Marketing has changed, and if you hope to be successful in marketing, you must adapt.
Simply broadcasting your message to the world is not enough. If you want to bring the right people to your business and convert them into long-term customers, you have to offer more than just a message.
The challenge is clear; will you rise to the occasion?