Facebook Developing Audio Only Room to Compete with Clubhouse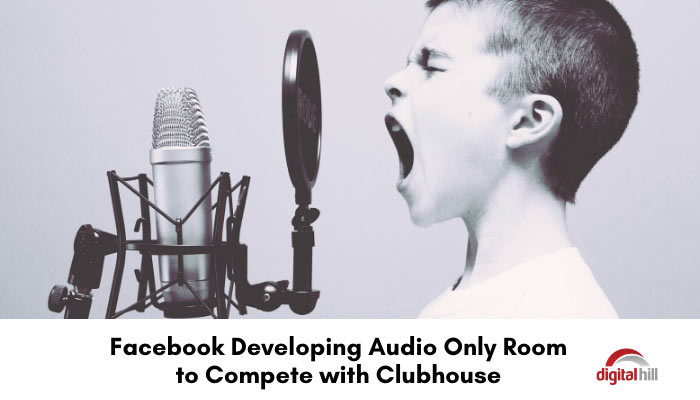 Despite being the most used social media platform, Facebook has a strong cloning history. Basically, they have the size that if they see something someone else is doing that they think has merit, they can make a "copy" of it themselves. In slang, it's often called "Zucking" after Facebook founder Mark Zuckerberg. Reports indicate that Facebook is developing audio only room production, similar to Clubhouse. Clubhouse is a relatively young social app that recently gained a lot of buzz and growth for providing audio chat rooms for users to discuss various topics.
Mark Zuckerberg, the Facebook CEO, while appearing in a Clubhouse Sunday chat to discuss augmented and virtual reality, attested that he always had an interest in audio communication methods. Following this, Facebook employees began to create a similar product. The project is currently in its early developmental stages, and its code name remains undisclosed.
Another Case of Cloning Other Apps?
Many social media users think that Facebook introduced this concept following the budding popularity of Clubhouse. This might be true, considering Facebook's cloning track record. Last year, Facebook introduced Messenger Rooms to compete with Zoom, a video app that quickly became popular during the Coronavirus pandemic.
Instagram, a Facebook-owned platform, also has a feature called Reels, rivaling the short-form video application, TikTok. Like TikTok, Reels allows users to post up to 30-second videos. Facebook also has a Stories feature that allows users to upload content that disappears after 24 hours. This feature is on its main platform, Instagram, and its messaging app WhatsApp. This feature copied the popular disappearing photos app Snapchat.
When questioned about cloning claims, Facebook spokeswoman dodged the question, claiming that they have been connecting people using various audio and video technology features for years. Similarly, they will continue to explore new ways of improving customer experience using technology.
Why the Focus on Audio-Only Rooms Now?
Despite Facebook's unbeatable track record of cloning popular apps or buying them out, the need for an audio-only room came out of necessity. This isn't a major stretch for Facebook, as it already has a video room feature. With the video room feature, users can create private video chats that other Facebook users can join.
As such, building an audio-only version of the same may appear like a step back, but it reduces data load and makes it open to all users. Coupled with the rise of audio-social use, Facebook can enable users that wish to enjoy audio broadcasts. This will allow them to tune in and participate in the conversations. This will turn the heat on Clubhouse, which remains an invite-only platform that is only accessible on Apple devices.
Facebooks' audio rooms will be a big win to those in Facebook groups. Most users will likely prefer interacting with other members in their Facebook groups via a live audio room without restrictions. Unlike video rooms, audio meetups eliminate the pressure of videos, making users feel more comfortable.
It is a no-brainer that Facebook will add this functionality soon, especially since the technical infrastructure support is already in place. However, Facebook's move into audio-only content brings forth many challenges to this social network, especially as it struggles to moderate fake news and offensive content.
A Vice news report indicated that fake news and reports about coronavirus have been spreading without moderation on Clubhouse. Therefore, it will be interesting to see how Facebook will handle its audio rooms feature.
Effects on Clubhouse
Facebook's entrance to audio-only rooms will add pressure to Clubhouse. Despite being a young app, it will have to work with speed to expand its use. Not to mention consider the introduction of monetization and revenue sharing options to keep its broadcasters. That aside, the future of audio-only rooms is another determinant. However, with its popularity, Facebook certainly has a place in the audio ecosystem.