How Using Product Builder Software Helps Your Business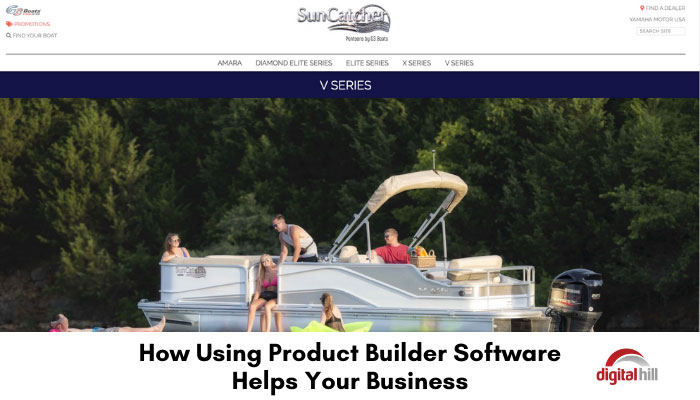 Product builder software, also known as product configurators, are becoming increasingly popular additions to many company websites. This is a great benefit for both buyers and sellers.
Having a customization feature allows the customer to get exactly what they want from the comfort of their computer or device. Therefore customer satisfaction is increased. When customers are satisfied, the merchant benefits in the form of increased and repeat sales. So, it's a win-win for everyone involved.
Digital Hill offers product configurator solutions that companies can utilize to not only reach a broader audience but also to close more sales.
Advantages of Product Builders
These are just some of the main advantages of investing in a product builder for your website;
Configurators enable high-level personalization
Customers spend more time on your website
The interactive nature keeps customers engaged
You get the opportunity to showcase your products virtually
Shopping can occur 24/7/365
Who Needs a Product Builder?
Many different companies can benefit from a product builder for their website. Companies who can benefit most are those who have;
Products with multiple variations/options.
These are products that come in various colors or sizes.
Configurable products exhibit varying degrees of business logic, for example a watch with various wristband options.
Modular products exhibit even higher business logic and are usually Assembled-to-Order (ATO).
Bespoke products are those that are completely manufactured after an order is made and are made to order specifications.  Boats, trailers, RV's, kitchens, modular homes, condos, and other large products can benefit from the product builder where customizing of a base unit to get exactly what you want is a common practice.

The Suncatcher Pontoon Product Builder
Suncatcher's pontoons are perhaps the best demonstration of what you can achieve with Digital Hill's product builder.
Suncatcher sells pontoon boats and has many large competitors. However, by offering customization options, Suncatcher already stands out. Unlike other pontoon sellers, Suncatcher allows you to build the boat you want and personalize it to fit your lifestyle, right on the website.
Of course, there are standard features, including navigation lights, trolling motors, and nose cones. But, beyond that, customers get the chance to customize pretty much every aspect of their chosen boat. Some of the features the customer can adjust/change include;
Size
Exterior elements
Interior elements
Furniture & accessories
Performance options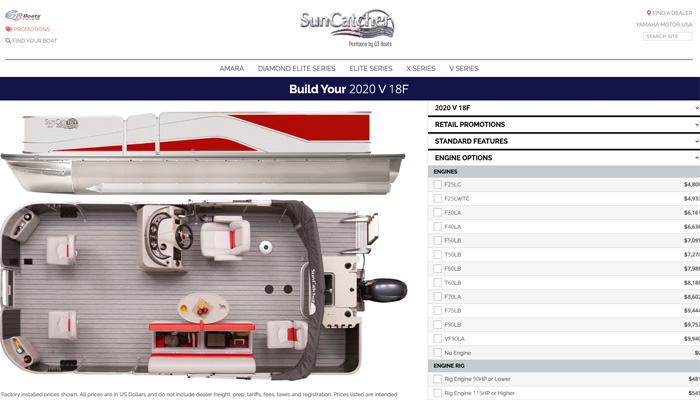 If you're interested in the 2020 V 18F pontoon, for instance, there are 12 engine types to choose from. To select an engine type, all the customer needs to do is check a box next to their chosen engine type.
The cost of all upgrades and changes are clearly shown next to the option, and the final price of the boat with customizations is prominently displayed.
The product builder allows customers to choose everything, from the exterior paint and fences to the interior furniture and flooring. Additionally customers are able to do all of this without having to contact and request a quote.
Every time the customer adds or changes an element or feature of the boat, the product image automatically adjusts to reflect the change. Once all the desired changes have been made, the customer can click on the "View Summary" section to view all the additions/changes and the final price.
Need Help?
If you think that a product builder would benefit your business, now is the time to act. Whether you sell shirts that come in a range of colors or deal in modular shelves with varying configurations, you could generate more leads and convert a higher rate of sales by using product builder software on your e-commerce site. Get in touch with Digital Hill today to discuss your options.