How WordPress can help you expand your business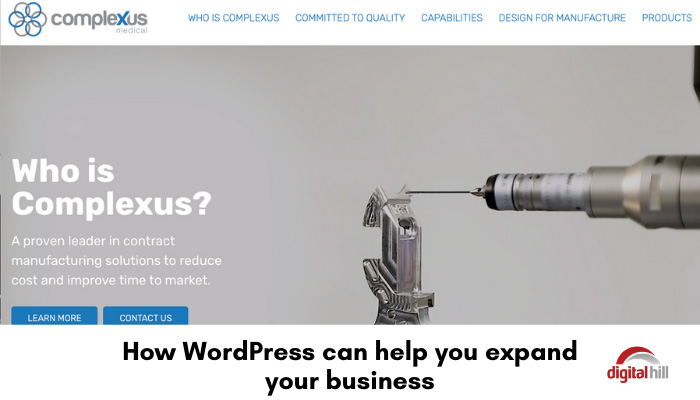 Today, with billions of websites on the Internet, you can't afford to be left behind. They say, "If you aren't online, you don't exist!" In the digital world, it is imperative that your clients can find you easily. If you're online already, bravo! However, is your website the best it can be? Does it create a lasting impression on visitors? Is it optimized for mobile use? These are just some of the questions you should be asking yourself if you're looking to make your website work for you and expand your business. Your website should help you to generate leads and expand your customer base, not just look pretty. The brand new WordPress website created for Complexus Medical does exactly that.
WordPress Site for Complexus Medical
Even if you aren't well versed in technology and technological terms, you probably are familiar with WordPress and all of its "glory". So, the fact Complexus Medical is a WordPress site means that they get to enjoy all of the great features WordPress has to offer. From the uncountable plugins, themes, and add-ons to applications that work to enhance the functionality of the site. 

By using WordPress we were able to tailor the Complexus Medical website to their business needs and optimize it for their business goals.
Attention-grabbing video on home page
The video on the home page is there for a specific reason. It captures visitors' attention instantly. Making it much easier to draw in leads. It allows website visitors to quickly see the services that Complexus Medical offers, without having to read pages of text. At Digital Hill we know the power of visuals, and we employ them so your site can work for you – while you focus on other business tasks.
Easy to navigate
There is little to no point in having a website when it's not user-friendly. It can drive away leads in a second. This is why we made sure that the Complexus Medical WordPress site is easy to navigate. Even if you aren't tech-savvy.
Whether visitors are seeking contact info, company social media sites, or the company's resources, they can get to it easily. By shortening the time visitors need to navigate the site, they are then spending more time reading and exploring the content online.
There are quick links, too, so visitors can get to the things that matter the most, including the latest news, in a flash.
Integrated news blog
The news blog section is a key area for Complexus Medical. Besides showing visitors what they have to offer as a business, their visitors can now take a peek into their latest news. They are able to see what new products are on the way. What awards they have won and what advances they are making in the industry.
Online users are only human. They want to be kept in the loop of whatever undertakings your business might be engaging in. Making the blog section easy to navigate, with an easy to read format encourages website visitors to stay onsite longer.
Contact form
The Complexus Medical WordPress site also includes a simple-to-use contact form so visitors can request a quote stress-free. This page also includes the company's physical address plus a matching Google map location.
It couldn't be handier, right?
But not more than the phone number that sits right at the top of the site. A phone number is something that a visitor will notice right away before they even start looking around for the contact page. This allows for great customer service, without having to do anything.
Social media connections
Today, folks are social media enthusiasts!
As a business, therefore, you can't help but integrate into their lifestyles by letting them interact with you on social media. Your social media pages not only help increase client trust but also gives you an edge over the competition.
This is a design feature that is crucial on an effective website. All of Complexus Medical's social media pages are readily available for website visitors. Clearly marked by the social media website logos, making it seamless and aesthetically pleasing.
Get in touch today!
If you like what you see on the Complexus Medical WordPress site and are thinking your site could use a refresh, don't hesitate to contact us. You and your business matter to us, and we want the best for you and your website.