Improve Your WordPress Website with these Trends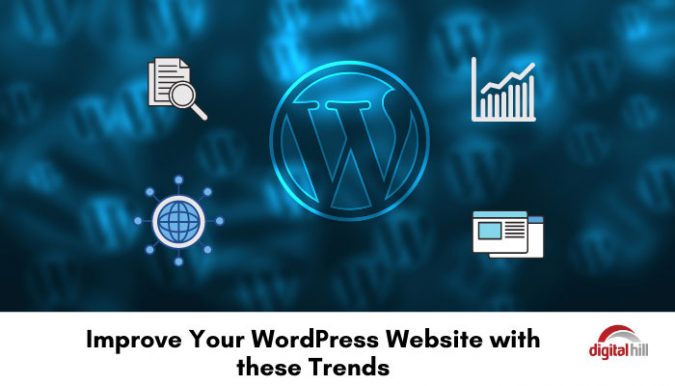 After 17 years WordPress continues to power the online space with more than 455 million websites. Indeed, recent stats show that more than 45% of businesses and organizations that use Content Management System are loyal to WordPress. No other CMS comes close. However, one thing never goes unnoticed – the evolution of technology. WordPress has changed significantly over the years to remain the powerhouse it is. The developer community is always at work. They aim to fix emerging issues while building new features to help website owners and admins attain their goals more easily.
You must keep up with these developments to gain maximum value from your WordPress site. Otherwise, you risk losing leads and missing out on sales to more up-to-date sites. Moreover, failure to keep up with the changes leaves you exposed to cyber risks and attacks.
To this end, we've identified nine WordPress trends to keep your website up-to-date and your business thriving.
WordPress Website Trends
1. Voice Search is on the Rise
Google reports that about 27% of all searches are now voice searches on mobile. In the US, it's just over a third of the population, i.e., at least 111.8 million people. WordPress website owners should take note and consider focusing on voice SEO.
2. AR and VR on the Comeback?
AR and VR technologies, such as the Oculus Rift, seem like a distant memory, especially given the initial hype and how they never really caught on. However, don't rule out the two yet. According to experts, although they've encountered massive challenges, AR and VR will be back stronger, starting next year. Prices are decreasing a bit and features are increasing.
3. The rise and rise of chatbots
Did you know that at least 1.4 billion people use messaging apps and are willing to talk to chatbots? Did you know that 35% of the global population uses bots to get answers to queries daily? That's just how popular chatbots have become.
4. Accessible Design for a Wider Reach
Good design is accessible to everyone. If your WordPress website isn't accessible to sections of the disabled population, you're leaving money on the table. Fortunately, WordPress has dozens of accessibility plugins to make your site accessible in a few clicks.
5. Google Core Web Vitals are Here
Google recently added three extra ranking signals, known as Core Web Vitals, to its long list of signals to improve user experience. These are;
Largest Contentful Paint (LCP), concerned with loading performance.
Cumulative Layout Shift (CLS), concerned with visual stability.
First Input Delay (FID), concerned with interactivity.
You must fully implement the three to maintain a high SEO ranking.
6. Better Use of White Spaces
You might have noticed more white space in modern websites. It's not by mistake. Savvy designers are cutting out the clutter. This makes it even easier for users to find what they want. It's a trend that will catch on fast as user experience takes center stage.
7. Parallax Design
Parallax design or, more formally, parallax scrolling, refers to the concept where background content moves slower than foreground content when scrolling a page. Though not new, it's another trend that has become even more popular in 2020.
8. Headers for Better Videos
WordPress enabled support for video headers back in 2016, and millions of developers and marketers have got on board since then. The main reason is that headers make it easier to follow scenes. Additionally, video headers just look cute, don't they?
9. A Greater Focus on UX Design
Finally, this list would be incomplete without a mention of UX/UI design. These two are the hottest web design trends today. So, whatever you plan for the new year, remember to invest in UX/UI no matter how small your budget.
Don't Forget the Essentials
Sometimes we focus too much on trending topics that we completely forget about the basics. As you enhance your WordPress site, don't forget about the basics of good web design, i.e., speed, simplicity, and navigability.