Manufacturing/Wholesale Website: HoneyVilleMetal.com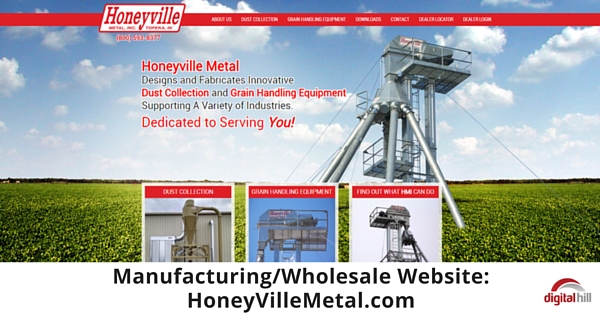 Honeyville Metal is a Topeka, Indiana-based business, that specializes in dust collection and grain handling equipment across the U.S and also internationally. They've been around for over 65 years building long-lasting customer relationships. While their reputation was enough to keep their customer base steady over those decades, their online presence wasn't quite as successful and needed an upgrade.
The Problem
While Honeyville Metal has a loyal customer base of clients that have been working with them for many years, they realized that to compete in a modern business environment, they needed to extend their online reach.  The web changes rapidly and their site features were falling behind in this mobile-first landscape online.
Honeyville Metal needed help to create a user-friendly website which showcased their experience, skills, expertise and made it easy for internet users to find them online while also enabling their team to make easy updates quickly.
Due to their niche client base, and the typical requirements of their client base, they knew they needed to incorporate detailed product information as well as value added materials like downloadable specification and data sheets.  The site also needed a private login area for their dealers and distributors to get information 24/7.
The Website CMS Solution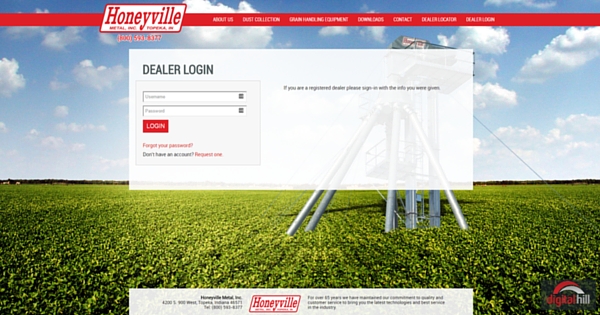 The solution to Honeyville Metal's website dilemma was a mobile responsive CMS website that combines the best web technologies in a package that appeals to their customer base. www.HoneyvilleMetal.com
The site includes:
Responsive, CMS based design, so it's mobile friendly, and will grow and change along with their business for years to come. Content management systems (CMS) lend themselves to dynamic, changing and expanding sites. They can create new pages, add products, add images and content whenever they need.
Easy to use, intuitive navigation, which makes it easy for users to find what they need in just a few clicks. Research has shown that if internet users can't find what they need in a few seconds, they'll leave the website. So we make sure to give visitors what they want right up front, and particularly on a mobile device or tablet.
A fast loading, SEO, and SEM friendly platform. By incorporating design best practices, organic and semantic keywords and other search engine friendly tactics in their website, we increased their chances of organic discovery for industry specific search terms in search engines like Google, Yahoo, and Bing.
The homepage provides quick links to most searched for information. Again, we make it as easy for Honeyville's viewer to find their most popular products and services, above the fold of the majority of screens on the homepage for no scrolling to get to key information.
An easy to use Dealer Locator to quickly see local businesses offering Honeyville products across the U.S. and in some international locations in Canada and Japan.
Extensive catalog pages devoted to popular products, services, and solutions. These important for clients and create highly relevant, industry specific and keyword rich content on the site.
A quick-access download section, where clients can access brochures, manuals and more.
A member only area for product dealers. Here, the client can share information that's only for industry partners.
With a website like this at their disposal, Honeyville is well positioned to expand their online presence into social media and content marketing, should they choose to.
About Digital Hill
Digital Hill is a full-service web design and online marketing company. We offer client-focused solutions that include web design, content development and management, social media marketing and more.
Our CMS based web design services use the best modern content management system technology to create a framework that's robust, well coded and easy to scale and grow as our clients' grow.
We specialize in integrating powerful website tools like secure application forms, maps, private login and member areas, interactive elements and more into the sites we design, creating a better first impression and an improved user experience. We design sites for people and search engines, so you're memorable and easy to find.
Whether you need a simple website to get you started online, or you want a complex, in-depth site that showcases your many years of experience in your field, we can create a tailored website solution for you. Contact us!
Save
Save
Save
Save