Simple Marketing Tips For Small And Medium Scale Entrepreneurs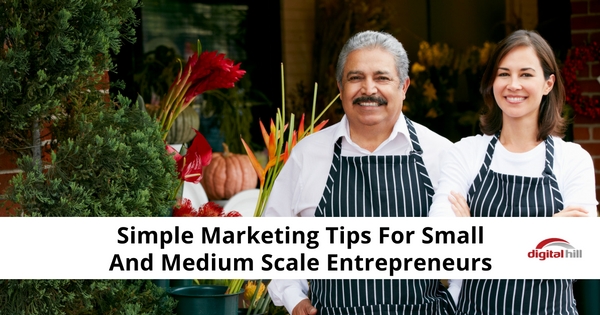 Gone are the days when only big players ruled the industry; today small and medium scale enterprises have been giving some pretty serious competition to all the top brands. And all high tech marketing tools and promotional platforms have only made it easier for local businesses to venture out into the global market. Armed with extensive information and competent technology, local businesses are thriving wonderfully. Here are some simple yet effective marketing solutions for newbies who want to make it big.
Social media marketing platforms
Social media is no longer confined to making friends and chatting, it now offers a pretty lucrative marketing option for online business ventures and websites that want to market their product.
Some of these tools are:
Google+ goes local
It is likely that you already have an account on Google +, all your Google accounts, right from Gmail to Google Play and Google Drive guarantee a place on the Google Plus local platform. Ensure that profile information is accurate, and your page actually has some relevant and engaging content. You can even merge the Google + business page with your local business website thereby implementing more competent and diverse marketing.
Twitter for crisp and concise advertising
With its innovative interface and limited character usage, Twitter is the talk of the town! Post crisp, concise and relevant content. Also take a more indirect and informal approach rather than aggressively marketing your product. Don't aim at selling your product, rather focus on building contacts. Comment and post on the trending topics as well to engage your followers.
Find friends and potential customers on Facebook
Facebook is a great place to connect with your audience and build a loyal customer base. Make use of the technology and market friendly tools available on Facebook. From offering tempting discounts to posting promotional events, you can do it all here! Although don't suffocate your audience but engage them.
Instagram, a visual treat to customers
Instagram, a platform that focuses solely on visual content offers some innovative promotional ideas to marketers who want to break free from the conventions of the written word. Infographics are the new trend, the aesthetic appeal, and clear-cut representation of data impacts the audience harder than paragraphs of written content.
Pinterest and Tumblr- the rising stars!
For entrepreneurs who want to present their ideas in a more creative and unconventional way, there are always Pinterest and Tumblr to cater to almost all preferences. A great platform for local businesses Pinterest even offers a diverse range of customisable tools.
Marketing tactics for local entrepreneurs
Local enterprises and small-scale businesses are popping up everywhere! All you need is some capital and an idea, but it doesn't end there. Most local enterprises do well in the initial stages but gradually dwindle into obscurity. Here are some practical marketing tactics that will boost your online credibility,
SEO improvement
SEO or search engine optimisation is one term every web entrepreneur must be familiar with. And as small-scale businesspeople, it is important to stay on top of things so as to not get lost in the sea of other similar offerings. Because no matter how good your content is,  weak SEO can ruin it all for you! Increase your website's visibility on the major search engines such as Google, Yahoo, Bing, etc. Google gives special preference to local enterprises, so ensure that you apply all SEO optimisation tactics such as keyword usage, location and infographics.
Reviews are important
Surveys and studies have repeatedly proven how most consumers go through reviews and reports on major review sites before they make a purchase. Listing your website on the major review sites improves your online credibility considerably. Platforms such as Yelp, Amazon, TripAdvisor, Consumer Reports are quite popular. Customer reviews are also a valuable source of feedback for local enterprises to identify their problem areas.
Build partnerships and collaborations
Local businesses have the advantage of limited competition. However building collaborations with your peers might help you get some valuable insights into the market. Also, partnerships help you share your field of expertise with your contemporaries. Everything is interdependent, for instance, a web development company could use the services of an auditing firm and vice versa. And the recommendations from the competitors can brighten your prospects in the market tenfold!
Actively participate in the local events
Getting involved in local events in and around your community is a smart way to improve your market standing. Sponsor local events, donate or fund charities and social causes to build a good reputation. Post pictures and information about these events on your website and other social media accounts to build a strong impression.
Local Content Marketing strategies that guarantee success
Content is the foundation of your website; you cannot compromise on quality. However there are some things you should consider before you implement these conquest strategies, Let us look at some of the most effective and reliable content marketing strategies designed for your local business,
Target specific market groups
There was a time when local and small scale firms were suffocated with limited market reach. Thanks to virtual platforms local entrepreneurs can now reach out to the global audience as well. Start slow, target a limited consumer group before you venture out to more markets. Identify your audience and take effective marketing steps to target them. Check out the tools used for this purpose
Facebook insights
Facebook is a good place to start; you can set the location and specify the preferences for finding the ideal customers who'd like and might buy your product. You can even share interests on Facebook and check out what your potential customers like. Such valuable insights and statistical information from Facebook come in very handy in identifying your audience.
Neilson Prizm
With this tool, you can conduct extensive local area searches and surveys to know exactly what appeals to your customers. Neilson Prizm is a free and practical platform where entrepreneurs can use the zip code lookup feature to identify the set consumer groups and customer types. You can access their income level, preferences, location, buying traits on Neilson Prizm.
Google Keyword Planner Tool
Searching customers through keyword usage is another smart way of identifying your desired market. The Google keyword tool helps you analyse the most used keywords in a specific area. Matching the insights from Facebook with the results accumulated from the keyword tools can give you some great market prospects.
Track and analyse the content you post
Content management and analysis are perhaps even more important than marketing. Establish certain ground rules and strategies on which your local business shall be built. Then analyse the content posted across the different social media platforms to see if it matches your set goals. Check out these tools that'll help you track your page's progress
BuzzSumo
With BuzzSumo you can identify the specific areas receive special marketing campaigns. This prevents a lopsided development and balances the reach of your business equally to all regions; you even get to know the loopholes in your marketing policies. Other than that BuzzSumo also offers access to your peers and what they're doing.
urlProfiler
This tool is great for local businesses that want to associate with the big players in the market. urlProfiler helps you get the top URL links and domain names online. It collects and monitors all your pages, from the word count to page reach you can manage it all.
The bottom line:
With such lucrative market conditions and top notch tools, small-scale businesses now have profitable opportunities that weren't available to them before.