New Business Website for Atlantis Rail Systems Using WordPress with Gutenberg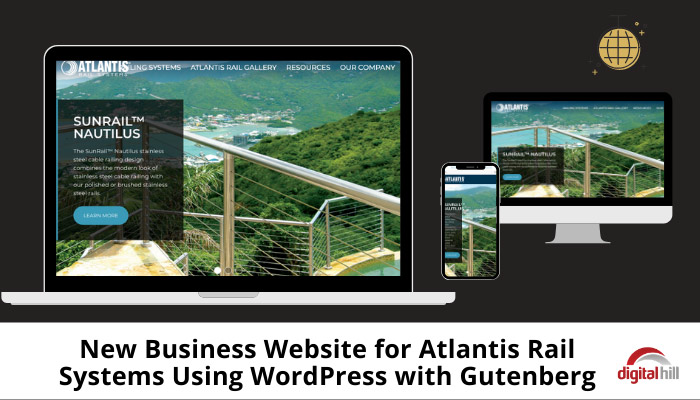 WordPress powers over 34% of websites on the internet globally. This percentage is bound to go up as more businesses acknowledge the importance of digital marketing. Having a website enables you to market your business in the digital space. On top of allowing you to reach a broader audience, it also gives your business credibility. Here's why we used WordPress with Gutenberg for our client's new website.
Atlantis Rail is one of the companies enjoying the benefits of going live with a new business website. The company is a manufacturer of stainless steel rails and has a track record of manufacturing state of the art rails. Using Gutenberg backend for their site completes the package.
Using WordPress with Gutenberg for their website is a win.
1. It is Engaging
A Gutenberg theme is engaging to both the visitor and the webmaster. As the web owner, you have easy access to a training portal that will help you understand how to navigate your new website. Adding CTA (call to action) has never been easier. For example, Atlantis Rail can easily trigger a reaction by directing their visitors to the photo contest, where homeowners and contractors have a chance to win by using the company's railing solutions.
For the viewer, signing up for the contest is as easy as providing their name, company name, address, and contact information. The platform then allows the viewer to select up to five photos for submission. The theme makes this call-to-action smooth and helps to improve customer experience.
2. Great usability
Gutenberg does not compromise a site's usability. It has simple, easy to use features. The table of contents is among the bespoke elements of Gutenberg. Making it easy for viewers to locate the content that most interests them. The table of contents is generated using headings and subheadings.
Another Gutenberg feature that enhances the usability for the Atlantis Rail Systems website is that it has visual editing. This makes the process of building a website easy for you. With this theme, you can choose the layout you want and other options that can help you create the site you wish to have. It is easy to design your website using Gutenberg, without needing to know how to code.
3. High Traffic
The idea of having a website is to reach 3.9 billion internet users globally. A website is only beneficial if the users are able to see it in the search engines. Furthermore, Gutenberg can take you to the top rank in the search engine results, just like it has done with Atlantis Rail Systems.
Blocks are key features of the Gutenberg editor. Each block has its own unique style and metadata. This offers you even more opportunities with SEO. The crawlers can quickly tell what your content is about, making indexing easier. The moment the bots notice you, expect your ranking on the search engine results page to improve.
4. Mobile Responsiveness
The world is going mobile, and 53% of the queries on the search engines originate from mobile devices. The performance of Atlantis Rail Systems on mobile phones is exceptional thanks to using Gutenberg. So, in a world where businesses often struggle to make their websites mobile responsive, Gutenberg does it effortlessly for you.
For example, the moment you click a button, you get a response: no delays and drags. Webmasters typically try to use fewer images to make their page loading speed faster. There are no limitations when using Gutenberg, in fact, it is designed for media-rich websites. You can do a demo post to test lengthy word counts and images. You will be happy at how fast the buttons respond.
To Conclude, using WordPress with Gutenberg for your website could be exactly what you need for you to have incredible power to manage and create powerful content for your site. It has been tried, tested, and has shown itself to have tons of benefits in web development and performance for businesses today.
A website needs to be upgraded nearly every 3-4 years.  Is your website due for an upgrade? Contact us to discuss today.