Diagnosing Why a Site's Set of Pages May Ranking Poorly
[fusion_builder_container hundred_percent="no" equal_height_columns="no" menu_anchor="" hide_on_mobile="small-visibility,medium-visibility,large-visibility" class="" id="" background_color="" background_image="" background_position="center center" background_repeat="no-repeat" fade="no" background_parallax="none" parallax_speed="0.3″ video_mp4="" video_webm="" video_ogv="" video_url="" video_aspect_ratio="16:9″ video_loop="yes" video_mute="yes" overlay_color="" video_preview_image="" border_size="" border_color="" border_style="solid" padding_top="" padding_bottom="" padding_left="" padding_right=""][fusion_builder_row][fusion_builder_column type="1_1″ layout="1_1″ background_position="left top" background_color="" border_size="" border_color="" border_style="solid" border_position="all" spacing="yes" background_image="" background_repeat="no-repeat" padding_top="" padding_right="" padding_bottom="" padding_left="" margin_top="0px" margin_bottom="0px" class="" id="" animation_type="" animation_speed="0.3″ animation_direction="left" hide_on_mobile="small-visibility,medium-visibility,large-visibility" center_content="no" last="no" min_height="" hover_type="none" link=""][fusion_text]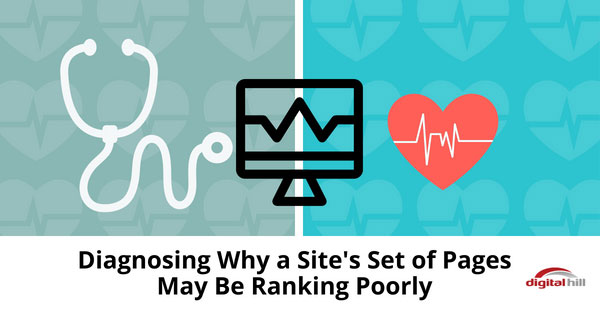 Any website can occasionally show signs of underperformance.
Perhaps you used to rank in the top three for a particular keyword, but are now confined to the bottom of the first page. Maybe you used to get 10,000 visits per month, but are currently struggling to get 1,000. Or, it could be both; your ranking might have fallen off the cliff, and your traffic numbers have taken a nosedive at the same time.
When this happens, the first step is to diagnose the problem and what can be done to remedy the situation. Here is a three-step guide to help you conduct a thorough diagnosis.
Step 1: Unearth the problem
In this stage, you need to find the underlying cause of the problem.
Assess the pages individually
Nearly all the time, it's a couple of pages that cause a site to underperform. Identify which of your pages could be problematic. Google Console can tell you if a web page has specific problems.
Track your traffic numbers
Check for three things here: whether your traffic numbers have fallen, how far they have dropped, and the period over which the changes took place. The great news is that there are several tools (even free ones) that you can use for this purpose. Excellent options include Google Analytics, Google Console, SimilarWeb, Quantcast, SitePrice, and Traffic Estimate.
Find out if your ranking has been affected
You can tell whether your site has dropped in rank by checking your position on the search engine for common search queries. But, to pinpoint the cause of the problem, you need to go a little deeper and check the performance of your keywords, brand name, and URL.
For instance, when you search one of your keywords on Google, where does your site rank? What about when you search a" keyword + your brand name?" Does your website even show up? Finally, type the complete URL string for that specific page to find out if the page is indexed in the first place.
Step 2: Come up with a hypothesis based on your findings
If your ranking is great but your traffic appears to have taken a hit, there are three possible explanations;
• Lower search demand for your keywords and products
• New SERP features that have made other results more appealing
• Reputation issues forcing people to overlook your brand
If both your ranking and traffic are on a downward spiral, the problem could be:
• Duplicate or low-quality content
• A change in intention of the searchers. People are searching for different things than before
• Competitors have overtaken you by doing things better
• Technical issues like penalties and non-indexing are holding you back
Step 3: Fix the problems and see if things improve
Some of these issues might require an expert's insight. However, there are issues you can resolve without breaking a sweat.
Ask Google to index your site
Most of the technical issues will instantly go away after Google indexes and starts crawling the site.
Fix spam and penalty issues
This can take a bit of time, even months. But, after correcting the issues, your site will improve in both ranking and traffic.
Build your brand reputation and fix your SEO
This can take a bit of time. But, as long as you put in the right effort, you'll ultimately catch up with the competition.
It takes an expert's insight to solve most ranking problems. If you can hire one, it is money well spent.
[/fusion_text][/fusion_builder_column][/fusion_builder_row][/fusion_builder_container]