New iOS and Android App Launched for Barletta Pontoon Boats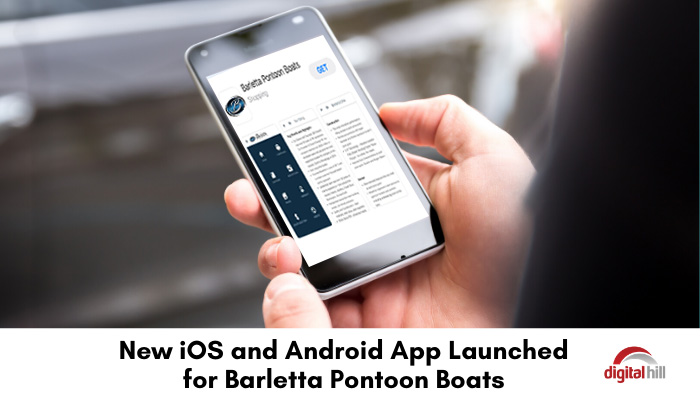 In the past, sailors relied on stars and plot charts for direction. These days, we do everything on an app – searching for music or checking news is just a tap or two away on your phone. Everything about the Barletta Pontoon boat app is designed to be easy. With just a few steps, dealers can install it on their Android device, or visit the Apple App Store. Either way, it couldn't be simpler to get this new iOS and Android app set up.
6 reasons why boat dealers are thrilled with this new iOS and Android app
1. Custom Boat Building
The new Barletta Pontoon Boat App gives dealers the opportunity to help customers design their dream boat on the spot.
Input what your customer wants and the app will assemble the specific boat or boats with great visuals. Dealers can virtually build customers boats with them step-by-step from a variety of floorplans including:
Passenger capacity – Find the perfect boat according to the number of passengers.
Series – Does your customer prefer owning pure luxury with a lavish interior (L-Class)? Refined options but with a price lower than the latter (E-Class)? Or all of the Barletta DNA packed in a super pocket-friendly price point (C- Class)?
With plenty of different models in each line-up, there's a perfect choice for every customer.
Engine and packages – A dealer can quickly help a customer select the best engine size for their use, or select a specific package such as a sport package.
Deck length – Easily view measurements of various deck lengths to make it easier to choose by seeing the boat change as you make selections on the app.
Extras – Able to include an arch or sport stern for example and see how that impacts the price.
Don't forget! On the side, there's a graphic representation of the boat types and models to give you a clear view of what a dealer is building with their customer for purchasing.
2. About Us Section
Who is the founder of Barletta Boats? When were they launched?
Well, through the iOS and Android dealer app we let you learn about how Barletta Pontoon Boats came into being, what their core values are, and what sets them apart from the boating crowd. As a dealer, you can be a part of their highlights (annual awards) and key events in the Pontoon boat manufacturing process.
3. Construction and Detail Section
On the app, this is called 'Barletta DNA', where dealers can share the construction that sets Barletta apart. It's not just about how well a boat can function, but also the interior styling of a boat that matters as well.
At each price point, you can view the standard features, and customize the customer's boat to make it as unique as they are. From choosing the Railskin color and accent to the furniture and flooring, there is full control. Additionally, it is easy to view how much each change or upgrade will be for each custom boat.
4. Photo Archive
The Barletta app is loaded with photos and videos from the manufacturing line and the website.
As a dealer, you'll always have the photos with you no matter what device you have (your phone, tablet or computer). So you can show potential customers what they will be purchasing. You can easily search by category or boat type.
Access them via dropbox or from our website. Additionally, there is no need to log out of the Barletta boat app to view images from the website. The app allows users to go directly from the app to the website, just click the button.
5. Product Guarantee Information
On the app, the unbeatable warranty programs (the pontoon boats and slide toon warranties) offered by Barletta are available at the click of a button. That means you no longer need to search through files to find the warranty information for your clients. These offerings give Barletta Pontoon Boats a competitive advantage in the boating world. They stand by their products, and we wanted to make the app reflect that in every way.
6. Customized Lead Forms
We partner with the best dealers to help customers find the best boat. This app makes it easier than ever for dealers to exceed expectations. Dealers can complete the lead form and send an email to themselves with customers' details and notes in seconds.
Need a Boat, It's Just a Click Away!
Whatever you are seeking in a pontoon, the new iOS and Android App for Barletta boats has it. To sum it up, this app quickly makes the impossibility of having an exclusive and highly personalized boat from a phone completely possible. Isn't that cool?
Do you have a unique business app idea? Contact Digital Hill to create an app for your company and make your idea a reality.