New Landscape Website: Wihebrink Landscape Management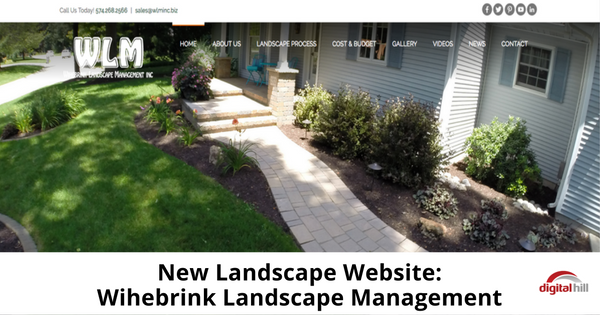 Our newest website for Wihebrink Landscape, wlminc.biz, is a great model of the landscaping business it represents; neat, professional, visually appealing and clean.
This new site is heavy on imagery, lower on text, and has a straightforward layout. Starting with its simple global navigation bar, image links, and a front-page gallery, this site is attractive and easy to use.
Gallery Areas
Good landscaping adds distinctiveness, uniqueness and variety to your yard and home.
Visual appeal is a major aspect of landscape design, therefore, the site has been designed around this concept. Galleries are an effective tool for "showing" and not "telling" a business's offerings. Instead of large chunks text, visitors get visual examples of the outdoor entertaining areas, patios, and renovations that the company has already done. This gives new customers confirmation that WLM can get the job done, giving them a chance to be inspired regarding landscaping they want for their own homes.
With WLM Inc's 50 years in the business, there are numerous examples of the company's previous landscaping experience. Several galleries have been placed on the site, each highlighting Wihebrink Landscape Management Inc's services, and business model.
The home page greets prospective clients and visitors with a gallery showcasing examples of the past landscaping projects from the company. The rotating slideshow gives the new site a dynamic feel and treats visitors to a slideshow of select photos.
From a company standpoint, our CMS makes it easy to update galleries as needed. New service? Results from a recent landscaping project? A look inside the day-to-day workings of WLM? Photos can be added or removed giving web admins control over one of the site's main features.
There are 7 Gallery Areas:
Spaces for Family & Friends
How It's Made
Mother Nature's Materials
Beauty in Brick Pavers
Protect What You Have
Mistaway Insect Control
Best Looking Lawn in Neighborhood
Other Site Features
Mobile Responsiveness
With millions of users connecting to the Internet with mobile devices, mobile responsiveness is almost vital to modern web design. The site is responsive, with a layout that transfers well across desktops, tablets, and smartphones.
Blog
WLM Inc's "News" section serves as a blog, with posts delivering company updates to readers. With such an image-heavy site, the News provides an option for local SEO. When home and property owners search for local landscaping companies in a search engine, blog posts will often show up. The current site's posts focus on WLM's projects in several cities and areas around Indiana.
WLM Inc's new site is its second one with Digital Hill. The redesign serves as a visual showcase for the services the company has to offer. While the standard blog and mobile responsive features are there, the redesign lets the landscaping company post proof of its body of work. Gallery areas present past projects and an intimate look at WLM Inc.
Need a professional website with tools your team can manage to keep it updated and fresh with new pages, products, and visuals?  We can help.