New Library website for Goshen Public Library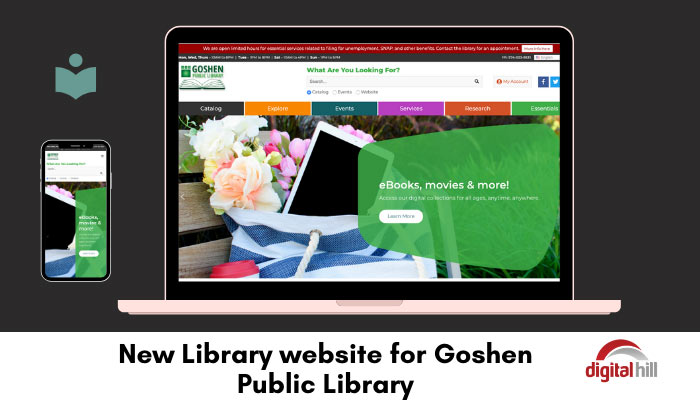 The Goshen Public Library has a new WordPress website with key tools a library needs! The leadership of the library wanted a new website that was simple, clean, and easier for users to navigate while also being expandable and easy for them to update. Now whether users are looking for a particular book/resource or hoping to attend an event organized by the library, it's much easier to search, find, and keep track of important details.
The following are just a few fundamental changes we made for the new Goshen Public Library website:
A Friendly, Responsive Website Design
First, we implemented mobile optimization for the new WordPress site so it quickly and seamlessly adapts to any screen size. Whether users are browsing on mobile or PC, all elements and features, from text to images, render perfectly, without the need to resize.
Better still, all the functions perform normally when viewing on;
Smartphone
Tablet
Laptop
Desktop
A striking, colorful menu bar forms the starting point for most navigations. However, users also find useful links (including a Quick Link section) for further navigation. All links are all clearly visible and work without a hitch on any device.
A Bold Notifications Bar
We also added a new notifications bar where important updates appear. The bar appears at the top of the site. Using the maroon background and white text to grab user attention and making it easy to read. Directly below the message, we added a "More Info Here" call to action using a white button that you can click to access more information on the topic.
It's worth noting that the bar appears at the top of all pages on the site, not just on the homepage. This way, everyone, even those who land on the contact page, can learn about the essential notifications. It does, however, disappear as you scroll down to ensure users have an enjoyable browsing experience.
Introducing an Events Calendar
Another new and vital feature on the rebuilt Goshen Public Library website is the events calendar. Goshen Library hosts plenty of events throughout the year. Popular events include;
Baby & Me Lapsits
Teen programs
Book clubs
The added calendar helps users keep track of the events that matter to them with additional search features. The calendar is located on the homepage and in the Events tab. The calendar highlights all the key event dates throughout any given month. Clicking a highlighted date then reveals the event scheduled for that date and all the necessary details. You can also scroll through the months to discover past and future events.
Improved Search Capabilities
Websites are frequently judged by the ease of searching for resources. On library websites, especially, menu bars and links are not sufficient as some resources may be buried deep within the site. The additional search functions are what make it possible to find such resources.
This is why the Goshen Public Library requested to improve its search capabilities. Now, users can search and quickly locate almost any resource within the library by using the search function. Users just type the resource they're looking for into the search area and press search. It works like a charm!
A Better Site for the Admins Too!
Finally, the new site also makes the work of administrators much easier. Admins spend countless hours adding new information to websites to keep the sites up to date. If the back end is complex, it could take ages to add just one new article.
By using WordPress we eliminated all that trouble. The Goshen Public Library admins, for instance, can now add videos, images, articles, and many other items easily. They are even able to easily tag and categorize them, meaning the catalog and search is easy to keep updated.
Feel Free to Check it Out
The new library website is live and open to public access. Check it out today and see for yourself just how much better their new WordPress Website looks and functions. To get a new or upgraded website suited to your business or organization, contact us today!