Powerful Website Systems: CommodoreHomes . com
[fusion_builder_container hundred_percent="no" equal_height_columns="no" menu_anchor="" hide_on_mobile="small-visibility,medium-visibility,large-visibility" class="" id="" background_color="" background_image="" background_position="center center" background_repeat="no-repeat" fade="no" background_parallax="none" parallax_speed="0.3″ video_mp4="" video_webm="" video_ogv="" video_url="" video_aspect_ratio="16:9″ video_loop="yes" video_mute="yes" overlay_color="" video_preview_image="" border_size="" border_color="" border_style="solid" padding_top="" padding_bottom="" padding_left="" padding_right=""][fusion_builder_row][fusion_builder_column type="1_1″ layout="1_1″ background_position="left top" background_color="" border_size="" border_color="" border_style="solid" border_position="all" spacing="yes" background_image="" background_repeat="no-repeat" padding_top="" padding_right="" padding_bottom="" padding_left="" margin_top="0px" margin_bottom="0px" class="" id="" animation_type="" animation_speed="0.3″ animation_direction="left" hide_on_mobile="small-visibility,medium-visibility,large-visibility" center_content="no" last="no" min_height="" hover_type="none" link=""][fusion_text]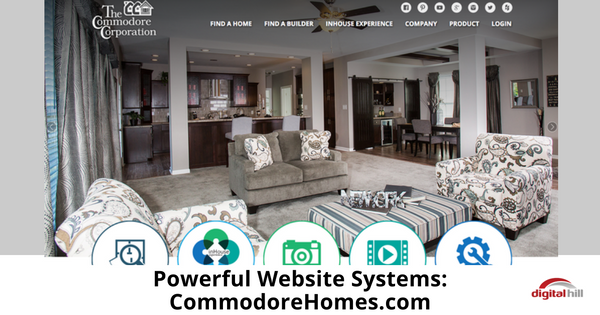 Commodore Homes' new site helps visitors get to the home of their dreams faster. Specializing in modular home design, Commodore Homes needed to put the tools to design and customize homes into the hands of customers. Therefore, we built powerful website systems: commordorehomes.com with the user in mind.  The website includes these advanced tools designed to improve user engagement:
InHouse Experiences
Interactivity and control are main features of Commodore's site. Utilize the InHouse Experiences tool to see and create the house you want to be built.  Hence, interiors and exteriors are under your control as you customize roofing, stories, flooring, and other options. There are so many categories and combinations for you to choose from, for example, opt for the Blanco Romano countertop and the brushed nickel hardware.
Starting with the exterior, the site guides you through design, step-by-step. While you design the exterior, you are presented with the options of choosing roof angles, shutters, front doors, and sidings. As you click through your selections, the picture refreshes to show your updates as you go.
Next, we head into the interior, you choose the floorplan (with bedroom and bath plans) you envision. Then go on to design your kitchen with numerous choices in hardware, flooring, countertops, appliances, and cabinets.
From curb appeal to stylish interiors, you are free to fully customize the look and feel of your home. Exert your personality over your new home with InHouse Experiences.
Builder Tools
Both Commodores and builders have access to the site's extensive set of tools. With builder and dealer tools, builders and site admins can:
Use logins to access information and resources about the homes they offer
Manage, edit and add to modules
Embed InHouse Experiences to their site
Customer Accounts
A Customer Account allows you to save your configurations and floor plans as you modify your project. Creating the account is as simple as filling out a few fields (password, address, email) in a form. As you complete the form, you will be prompted to provide a zip code. The zip code and address you enter will be used to search for Commodore Builders in your area.
About Commodore Corporation
One of the largest builders in the United States, Commodore Corporation is a manufacturer of modular homes that cost much less and provide more customization than traditional site built homes.
Moreover, Digital Hill's newly designed website for the Commodore Corporation provides a diverse range of customization options from specialized website tools. Visitors coming to CommodoreHomes.com can come with a vision and leave with the home of their dreams.  Best of all, the Commodore team has the management web tools to be able to update, control and manage all these advanced features.
Need a robust website that performs multiple types of tasks? Contact DigitalHill.com we can help.[/fusion_text][/fusion_builder_column][/fusion_builder_row][/fusion_builder_container]