Top 7 Things to Consider when Choosing a Domain Name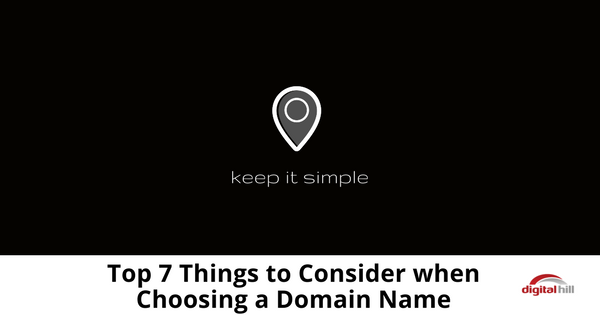 Brick and mortar real estate is all about location. If your business is in a dark alley and surrounded by industrial warehouses, chances are you won't get a lot of foot traffic. You want to be on a main thoroughfare or part of a busy shopping district so your customers can easily and conveniently get to you. Without the right location, you're setting your small business up for failure.
Your online website address is just as essential as finding the right piece of commercial real estate. The domain name is the first thing potential customers look for when they're seeking you out online, and if you have a confusing name or something that's filled with hyphens and difficult to type, you're going to lose them. Apart from the domain, you need to be careful in choosing a hosting provider to give a better user experience to users. Use sites like Hostingstep to find the best managed WordPress hosting provider to host your online business websites.
Key Factors in Choosing a Domain Name for Your Small Business
Follow these best practices to get a domain name that represents your small business effectively.
Choose between your company name and a keyword rich online domain.

Ideally, you brand your website around your business to have consistency for your customers, but that's not always possible. A keyword-rich option incorporates the terms that you want to rank for. Spend some time researching the best phrases before making a purchase.

Keep it simple.

No one is going to remember a 30 character domain name. Aim for as few words and syllables as possible. Imagine the name on a business card or piece of marketing collateral to determine what could work well in reality.

Resist impulse purchases.

Even if your first-choice domain name ends up getting registered quickly, you have millions of other choices. Take a deep breath and consider the long-term needs of your business. The last thing you want to do is go through a rebranding a few years down the road. Pick something with staying power. However, once you make your final selection, register it as soon as possible. You don't want to waste all that research time on something that gets swiped out from under your nose.

Throw everything that isn't characters out the window.

Have you ever seen domain names filled with hyphens, numbers and other weird configurations? These confuse consumers and degrade their trust in your business, so stick with letters as much as possible, or single hyphen.

Avoid uncommon top-level domain names.

The TLD (top level domain) is the part of the website name that comes after the period. For example, .com is the one you see the most. Stick with this go-to option unless you're a non-profit. A .org domain works better for that type of business. The others like ".tv" and more are simply not as mainstream.

Protect your business brand.

You need to purchase more domains than the base name when you're getting started. Don't give squatters, spammers, and scammers the opportunity to cheapen your brand through domain variations. Register the .net, .us and .org alongside the .com and redirect these options to your primary website.

Complement your domain with descriptive websites.

Think about the terms a typical customer uses when they're searching for your product or service category. For example, a general contractor in Baltimore chooses HainesContracting.com and picks up BaltimoreContractors.com and BaltimoreGeneralContracting.com at the same time. Much like the variant domains, you can redirect these to your main site or turn them into landing pages.
Your domain name can lead you to success or put your business in the Internet's bad side of town. Follow these tips to get the results you want from your online presence.
Save