Specialty Dealer Portal and WordPress Website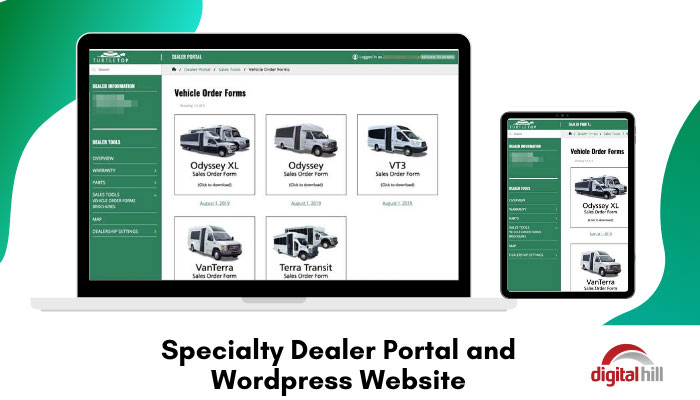 Turtle Top is a national leader that has been manufacturing custom buses since 1962. They specialize in designing small to midsize buses. If you're seeking a vehicle to facilitate your church, school, business, airport shuttle, or governmental group transport needs, Turtle Top has solutions. To showcase their options and better serve their users, they needed a specialty dealer portal and a new public website. We built a custom dealer portal on WordPress to achieve their goal.
We developed a new website for Turtle Top using WordPress. This gives visitors unlimited access to see and learn about the specialty vehicles they manufacture. Below are some of the insightful features and modifications that their WordPress website provides.
Important Features on the WordPress Website
1. Easy to Use Find-A-Vehicle Search Tool and Layout
For people who have a hard time perusing lists, the Turtle Top online dealer portal makes searching for your desired bus chassis much simpler with a well-designed grid layout.
The Find-a-Vehicle tool is straightforward for users and combines essential panels to help search functionality. In the left sidebar, there are a variety of tabs such as: Series, Occupants, Chassis and Features. These sections allow users to quickly select various options to suit their needs. As the users' choices become more specific, only the relevant options then show on screen.
Perusing through the search results is an easy and effortless task. The search results will show a maximum of 25 models per page, instead of one long needless scroll. This consumes less computer RAM, which results in faster loading times for the WordPress Website.
2. Brilliantly Designed Dashboard and Portal Administration
The newly integrated specialty dealer portal is designed with constructed input boxes for users to log in or register.
Once approved for the system and logged in, dealers receive a welcome message in the dashboard. From here, dealers gain access to their recent orders, and other sections such as: Warranty, Registrations, Parts ordering, Warranty Claims, Sales Tools and Dealership Portal Setting Controls.
Warranty Registration and Claims Management

Dealers can now easily view and check their warranty information, without having to look through paperwork or call Turtle Top. Users can also use this section to file a warranty claim, and register their bus. If any updates are made to a warranty claim, updates will appear here.

Dealer Sales Tools
Turtle

Top is making it easier than ever to order your desired vehicle. Each form shows icons, offering administrators the privilege of downloading sale order forms for the vehicle chassis of choice. Be sure to check up on the recent additions as updates are frequent.


Settings

This section allows users to customize their dashboard, from the layout to notifications and dealership staff member access. The customization of the panel is straightforward. In the settings section, you can make a few alterations to your dashboard, to show what you need when logging in. It gives a sense of creative freedom as each user is not limited to the default settings designed explicitly by the developers.
Turtle Top Bus Manufacturers are ready for 2021 and beyond!
At first glance, the portal's overall design is clean and clutter-free, with a well-organized aesthetic layout. Not only that but, Turtle Top offers significant features to achieve an unforgettable dealer user experience on their website. By having a custom specialty dealer portal, Turtle Top can offer their dealers and service centers unparalleled service instantly.
If your business is interested in a custom dealer portal and WordPress website, contact Digital Hill today!