The Newest Website We've Built: The LaGrange County Community Foundation (LCCF. net)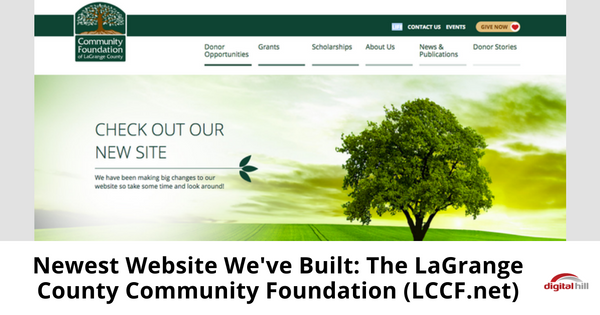 The LaGrange County Community Foundation connects youth organizations, students and the community to numerous scholarships and grants funded by donors. With a mission to sustain leadership and service in  LaGrange County community, millions have been raised for projects and community needs in areas such as arts and culture, recreation, and human services. Keeping this in mind, we have designed a new website for the foundation.
Our new website makes it easier for donors, students, and community members to use and navigate the site with:
Mobile Responsiveness

Viewing the website on the mobile device is just as easy as viewing it on a desktop. This makes it accessible for students on-the-go or for visitors to take a quick look on a smartphone or tablet.

Organized Front Page Design

A good front page answers questions quickly. The new website is laid out so the target audience is routed to the appropriate links quickly. New visitors are invited by the gallery to explore the new site and call to actions (CTAs) while getting a glimpse of current scholarships and upcoming events. Right below the gallery, 3 hyperlinks (accompanied by effective graphics) are available; Ways to Give, Apply for A Grant, and Find a Scholarship.
Starting with the website's Global Navigation, the site is divided into 6 sections with some tabs having drop-down menus for simplicity. The first 3 sections provide information about donors, grants, and scholarships.
Donor Opportunities

Donors and their charitable donations are the backbone of the foundation. The website directs potential donors to several ways of giving (through life insurance, cash, or trusts), fund types, donor rights, and a FAQs.

Grants

The LaGrange County Community Foundation provides grants for programs that provide needed or innovative services to LaGrange County. Qualifying nonprofit and government organizations are eligible to receive a grant through the application process. LIFE Grants are available for local youth organizations and schools.

Scholarships

There's an astounding amount of scholarships provided by the Foundation. Most of the scholarships were inspired by local residents and are provided to students attending local schools. While some scholarships are targeted for general access to higher education, there are plenty geared toward specific subjects such as journalism and agri-business.
A community-based foundation, the LaGrange County Community Foundation furthers its mission in the community by providing donors with an avenue to give and by offering a great amount of scholarships and grants to students and organizations. Donors, students, community leaders, and schools can navigate the new website and help the foundation fulfill its goal of enhancing the LaGrange County community.
Most importantly for the organization, they can easily control adding new content, pages, news, and keep the latest information in front of their web visitors.  More than a site, it's a powerful communication tool using Digital Hill's advanced website CMS system.
It's a win for the organization and those they serve!
Save