Top 6 Things to Consider for your WordPress Website in 2019
[fusion_builder_container hundred_percent="no" equal_height_columns="no" menu_anchor="" hide_on_mobile="small-visibility,medium-visibility,large-visibility" class="" id="" background_color="" background_image="" background_position="center center" background_repeat="no-repeat" fade="no" background_parallax="none" parallax_speed="0.3″ video_mp4="" video_webm="" video_ogv="" video_url="" video_aspect_ratio="16:9″ video_loop="yes" video_mute="yes" overlay_color="" video_preview_image="" border_size="" border_color="" border_style="solid" padding_top="" padding_bottom="" padding_left="" padding_right=""][fusion_builder_row][fusion_builder_column type="1_1″ layout="1_1″ background_position="left top" background_color="" border_size="" border_color="" border_style="solid" border_position="all" spacing="yes" background_image="" background_repeat="no-repeat" padding_top="" padding_right="" padding_bottom="" padding_left="" margin_top="0px" margin_bottom="0px" class="" id="" animation_type="" animation_speed="0.3″ animation_direction="left" hide_on_mobile="small-visibility,medium-visibility,large-visibility" center_content="no" last="no" min_height="" hover_type="none" link=""][fusion_text columns="" column_min_width="" column_spacing="" rule_style="default" rule_size="" rule_color="" class="" id=""]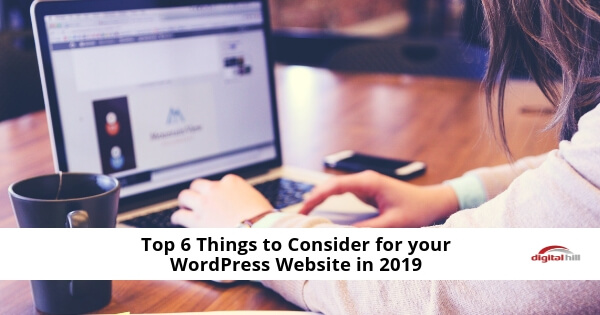 32% of all websites use WordPress, and for a good reason. Aside from being free to use, building a website using WordPress is super easy. You don't need prior experience or coding knowledge to create a beautiful site on the platform.
As if that's not enough, WordPress comes with thousands of user-friendly themes and plug-ins to help website owners get the most value from their sites. Professionally designed themes help you stand apart on the web which is vital for traffic generation and lead conversion. Functional plug-ins are used to beef up security, optimize your SEO and other potential loopholes for a trouble-free and highly profitable online presence.
Six Elements to Make Your WordPress Website Complete
For an even more rewarding digital marketing campaign, we recommend that you add the following six elements to your WordPress website.
1. Add a Subscription Form
Send your latest blog post to your subscribers. Educated your subscribers about your products and services and they'll be excellent clients. They'll know what they want and how to use your products and negative reviews and customer services inquiries will go down.
2. Track your Website Conversions
A number of marketers don't actively track their site performance. This can be a massive undoing given that tracking website conversions teach us a lot about how leads are captured and what it takes to close a sale. You need such information to improve your performance. To begin tracking using Google Analytics, claim your tracking code right away. You can also install a WordPress plug-in if you don't want to go into your site's code.
3. Add your Website to the Google Search Console (GSC)
Formerly Google Webmaster Tools, GSC gives marketers access to data and configuration control as well as provides direct insight from Google as to how the search engine sees your website. For instance, you get to see the errors, broken pages, and indexing mistakes affecting your performance. You can also see actions taken by Google against your site, including malware warnings, detected hacks, and manual penalties. You need this data to safeguard your online presence.
4. Improve your Mobile Experience
Since mobile users demand instant page download, you can invest in website speed. Choose a mobile responsive theme for your mobile site as that's what Google looks for. Another option is to build an app for your business. Finally, you need to also optimize your website for mobile by using caching plugins and image optimization.
5. Consider Personalized Chatbots
A key advantage of personalized chatbots for small and medium-sized businesses is that they keep your business running 24/7. Even when you're not around to respond to customer queries, your chatbot will be there on your behalf. Additionally, chatbots reduce customer acquisition cost (CAC), increase retention rates, and deliver personalized experiences. You can achieve all this with a chatbot plug-in for your WordPress website.
6. Invest in Website Maintenance
Maintenance refers to performing all the tasks necessary to keep a website up to date and in good, working condition. This includes but is not limited to changing site content, redesigning headers, updating security and software, optimizing pages, cleaning up old files, and testing various features. Regular maintenance is a must for optimal performance.
With these six tips, your WordPress website is set for the demands of today's digital marketing.
[/fusion_text][/fusion_builder_column][/fusion_builder_row][/fusion_builder_container]