Using Bing and Yahoo for Keyword Research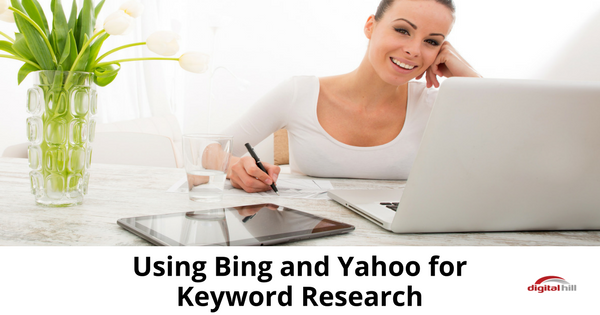 Google may get all the hype for its keyword tools. However, Yahoo and Bing offer robust keyword research tools in their own right. For marketers, this offers even more opportunities to tap into profitable niches. Having multiple keyword tools lets you gather research data using multiple platforms for a wider perspective.
Keyword Research with Yahoo
Yahoo's Keyword Search Assist tool offers suggestions as you type in your query. The tool corrects errors and saves time as it guesses your intent. As convenient as this is for users, it is especially beneficial to marketers.
When using Yahoo's Search Assist, note the suggestions that come up around your keyword. While Google's similar search tool adds suggestions after your query, Yahoo adds to the front and the end of the query. You can take the findings and research further to decide which keywords to use.
You can also uncover relevant keyword information using Yahoo's keyword tool (Yahoo! Search Marketing). With this tool, you have access to information like the number of people that search for specific keywords (which is great if you want are considering how many people will visit your site). The tool provides a list of related keywords based on lists you create for more keyword inspiration.
Bing's Keyword Tools
You can perform a similar search method with Bing's search. Better yet, Bing's specialized keyword research tool not only offers the ability to research keywords but also gather bid and budget estimation as well as suggestions for ad groups. Similar to AdWords, Bing's Keyword Planner provides information on volume trends and competition data.
Here's how Keyword Planner works:
You Can Start From Multiple Points – You're not limited to researching keywords. You can gather insights on your keyword lists or receive budget recommendations.
Keyword Research By Demographic – Research keywords by state,  region, and city and the information will be presented in a chart or graph.
Filters – You are allowed to filter your searches by search volume as well as the exclusive or inclusion of individual keywords or lists.
Performance Metrics – Grouping keywords together and including budget requirements allows you to get a good idea of how your campaigns will perform.
Campaigns – Grouping keywords together offers the ability to launch campaigns right from the keyword tool. The keywords discovered during the search can be added directly to the campaign.
While Google may get all the credit. However, Yahoo and Bing offer tools that will assist you in keyword research and provide great insights into the success of your campaigns.