Why All Facebook Posts Are Not Created Equal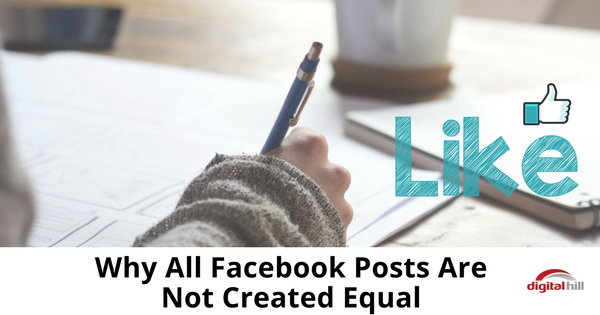 Facebook may be the biggest social network, but that doesn't mean all posts hit it big. Some reach millions of people but most only get a handful of likes and shares before they're forgotten.
Posts don't need to go viral to be a success. They're doing their job as long as they reach your target audience and generate conversions. But even getting to that stage isn't as simple as it sounds. You can't just post anything and hope for the best. To improve your posts' performance, here are some things you need to incorporate:
Clear Objective
Is your post intended to bring brand awareness or promote new products? Different goals require different approaches, so you have to know what your purpose is before making the post. For brand awareness, write a compelling headline with a link to a blog post. For product promotion, offer a great deal and make it available for a limited time only.
Visual Appeal
On Facebook, content with visual elements gets shared more than just content with text. And between videos and photos, videos get better traction, especially Live videos. So if you have an article, make sure to include pictures — and if possible, short clips — to break the monotony of text. You can also get more mileage out of an article when you repurpose it into an infographic, a quiz, or a mini movie.
Mobile Usability
Facebook has 1.15 billion daily active users on mobile as of the end of 2016. Given this large number, you need to optimize your posts for mobile use to get a share of the market. This means you need to keep your posts simple because too much clutter is hard to decipher on small screens. Also, go for visual content and less on textual content. People don't like straining their eyes to read text on their smartphones.
Call to Action
Facebook is all about engagement. Thus, your posts should spark an interaction in some form, whether through a comment, a like, or a share.  So don't just post. Instead, ask a question, initiate a discussion, or encourage people to like and share. The important thing is that your call to action should tie in with your primary objective.
Food for Thought
Evocative posts generate the most reaction from people. Because these posts make people laugh, cry, or think, they end up being shared over and over again until they become viral. So don't hesitate to touch people with your posts in one way or the other.
An inspirational quote, a funny video, or an intriguing question can not only boost your online marketing but can also make someone else's day. Of course, stay away from topics that can stir negative emotions towards you or your business. Your intention is to make people like your brand, not loathe it.
For online marketing, posting on Facebook involves a well-planned strategy. But remember, Facebook is a social platform in which videos of playing cats and laughing babies go viral. It's where people go to take a bit of break from their busy lives. So take it seriously, but don't forget to have fun with it.
Save
Save
Save