Why It's Important to Caption Your YouTube and Facebook Videos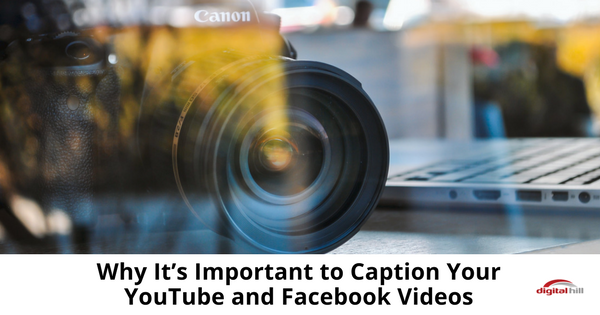 Online marketers have been reaping the rewards from using video in their content marketing. Hopefully, you've found success using video too.
Now, we take a careful look at Video Captioning.
Before you veto this on the grounds that it will take too much time, understand the immense value you'd be leaving on the table.
Three "no-brainer" reasons your videos need captions:
Up to 85% of viewers on Facebook watch your video content with the sound off! Apparently, silent films are trendy again. No, the real reason is that most of us watch Facebook videos in places where we probably shouldn't be. Captioning your video content gets your message in front of this "secretive" Facebook viewing audience.
Views generate views. This is a "duh" statement built off the first reason, but the point needs explanation. If 85% of your potential viewers keep scrolling, your video is going to rank lower, even if Facebook or YouTube aren't specifically incentivizing captions in their algorithms. It's practically common sense.
Caption files help search engines query your video content. While the specifics of every search engine's algorithms are trade secret, we can safely assume they're querying video caption files. These files allow search engines access to the keywords within your video content without having to decipher the attached audio files. Search engines love efficiency and helping them in this way will pay you back in ranking over time.
Thankfully, there are some shortcuts available.
Many video hosting platforms including Facebook and YouTube have implemented auto-captioning functions within their platform. These tools will likely improve over time and may never be perfect, but they'll beat doing nothing.
"Transcribe and Auto-Sync" is a YouTube specific tool.
At the time of writing, this feature is offered for free in everybody's YouTube Creator Studio. Should this change and become a paid feature, there are many transcription services geared at servicing this very need.
Rev.com is a trusted name in transcription.
For $1 / min of transcribed or captioned video content, Rev aims to be your one-stop-shop should you decide upon outsourcing your captioning efforts.
Their website boasts their affiliation with some pretty big clients, ranging from Uber to Comcast. Whether you choose Rev or a competitor, the ROI on captioning should outweigh the cost implementing it.
"Silence is golden"
It's not all about sneaking around and watching when you shouldn't be. Video captioning is beginning to make its stamp as a "must-do" aspect of most brands' online content marketing efforts.
You're reaching the "library, no-headphones, late-night, airplane" audience who just can't turn the sound on no-matter how visually-engaging your video is. Don't forget that Facebook is showing your video without sound, by default, and that's not likely to change.
Make your video more accessible to your audience and expect engagement to improve.