YouTube vs Facebook Video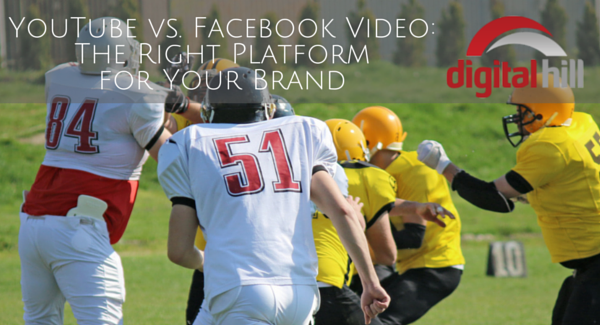 As videos continue to skyrocket in popularity, video offers an excellent way to communicate your brand's story in a meaningful way. Videos offer an accessible way to create an emotional connection with your target audience.
YouTube and Facebook video are two of the most popular video sharing platforms. Which platform is right for your brand? This helpful comparison will help your company make the right decision.
YouTube
YouTube, which is owned by Google, is the most popular online video sharing site. More than one billion users visit the site every month. As the most searched video platform on the internet, YouTube offers many benefits, including:
Ease of Use – YouTube uses a simple platform that makes it easy to upload new videos. Multiple video file formats are accepted, and YouTube's tools make editing easy. The best part – YouTube is free.
Great Rankings – Since Google owns YouTube, YouTube videos perform well in the search engines. Many YouTube videos show up on the first page of search results.
Easy Discovery – YouTube offers a "related videos" function, allowing users to discover new, related content. While YouTube offers many benefits, businesses also need to consider the disadvantages to using this video sharing platform, including:
Limited Promotion Options – The ability to promote videos is limited on YouTube. It's possible to place videos in playlists and add relevant tags, but it's difficult to connect with consumers.
Ads – It's possible to monetize videos on YouTube by enabling ads. However, you'll have limited control over the ads displayed. It's possible for customers to see ads from competitors before they watch your brand's videos.

Facebook Video
Facebook offers the top platform for video promotion and sharing online. While Facebook is useful for promoting and sharing videos from other platforms, it's also a popular video hosting platform. Why should businesses consider Facebook video?
Facebook Video Growth – Within just a few months, Facebook Video went from 3 billion daily views to 4 billion daily views. Facebook Video is growing and shows no signs of stopping.
Facebook Overtakes YouTube – YouTube held its place as the leader in video uploads for years, but Facebook has overtaken YouTube. Brands are now posting more videos on Facebook than they are on YouTube.
Easily Connect with Consumers – Many Facebook users spend up to 40 minutes each day on the site. Adding videos to Facebook allows businesses to easily connect with consumers where they already are.
Excellent Ad Capabilities – With targeted advertising, Facebook makes it easy to connect with your brand's target audience. Once a video ad is created, it's possible to track direct engagement while driving targeted traffic to the video and your website.
Auto-Play Feature – Facebook offers auto-play capabilities, which makes it possible to grab the attention of consumers as they check out their news feed. Although Facebook Video offers excellent promotional potential, some users find the following drawbacks frustrating.
Limited File Sizes – Facebook videos cannot be longer than 20 minutes and file sizes cannot be larger than 1GB.
Search Engine Limitations – Unfortunately, videos on Facebook aren't as likely to show up in search engine results, limiting the reach of your Facebook videos.
The Bottom Line – Use Both
Since both video sharing platforms offer unique benefits, use both platforms. YouTube harnesses the power of Google. This offers excellent SEO value to businesses.
On the other hand, Facebook drives engagement and has the power to drive traffic to your company's website. It's easy to upload your brand's videos to both platforms, increasing the reach of your videos while building your brand.
What are your thoughts? YouTube? Facebook? Which platform have you had more success with? Please share your tips for success with us.