Why you need a Speedy Website to Convert Leads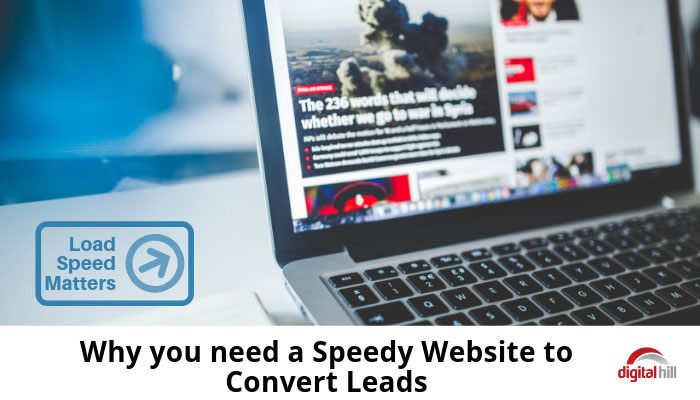 Today, consumers will go online for information to help them in making smarter buying choices. In fact, the eCommerce Foundation approximates that 88 percent of buyers will research product information before they purchase a product online or in a store. This purchasing behavior shows the importance of having a business website in today's competitive market.
Is Your Website Converting Leads?
You have invested in a beautiful website design, but your sales numbers have been declining, and your conversion rates are inadequate. Why is this happening? How can you get more people to convert from prospective buyers to customers?
If your website is engaging and is well designed but it isn't helping convert your buyers, followers, and visitors, then you may have slow website speed. For your website to convert your leads into actual sales effectively, you will require a speedy website.
Want to Convert Leads? Speed Up Your Website
According to Akamai, your online visitors expect your website to load in 3 seconds or less. However, most top 500 eCommerce business websites have a median load time of 10+ seconds. This can frustrate your customers, and it can eventually lead to abandoned carts. Therefore, improving the speed of your website can improve your conversion rate dramatically. In fact, improving the load time of your website by one second can boost your conversion rate by 7 percent. Here are some reasons why your website speed can be a big issue:
Website speed affects SEO
Did you know that Google now uses website speed as one of the many factors to rank websites? This means that your website speed will reflect how your website responds to various requests. Contrary to common belief, website speed isn't just important to site owners, but to all users. Fast websites create happy clients, and the opposite is also true. Google is aware that redirecting clients to slow websites can cause havoc, so it comes as no surprise that the search engine places a high value on site speed.
Buyers are impatient
A recent Amazon in-house testing revealed that a single 100ms increase in load time reduced sales by approximately 1 percent. In the '90s, users were satisfied with website load speeds of more than eight seconds. However, by 2006, approximately one-third of internet users abandoned websites that took more than four seconds to load.
Keep in mind that three out of every four users will not reconsider websites that have a load speed of more than four seconds, meaning that your chance of returning customers decreases. This applies to both desktop and mobile users. Therefore, handling problems that may be slowing your website speed is of extreme importance. If you ignore the need for having a speedy website, you will lose your clients, isolate your followers, and watch as your conversion rates continue to decline.
Website speed is your first impression to your customers
First impressions are always important, especially when it comes to your business. Your clients, visitors, and readers will make an instant judgment about your business by how fast your business website loads. If you have a fast loading website, you can make a strong first impression. Users often relate speed to efficiency, confidence, and trust.
Invest in a Fast Loading Website
While a well-designed business website, quality content, and having a unique brand is important, keep in mind that a speedy website is equally important. Making sure your website loads quickly will help your potential customers to interact with your website, producing more conversions. It will also increase your visibility in search engine searches.
We can build fast-loading optimized sites that meet today's web standards. Contact us today to discuss your needs!