SEO Before You Launch Your Website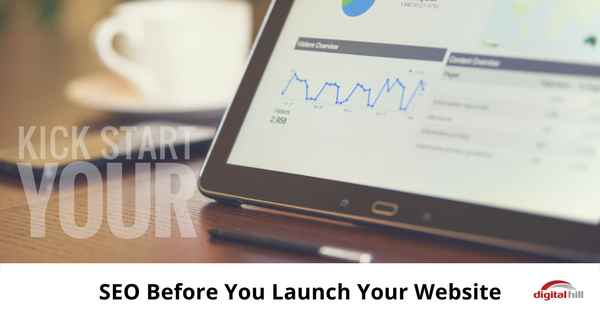 Building a website is a lot like building a house. There's a lot of planning involved, and even more nuts and bolts, behind the scenes, work, followed by a lot of cosmetic work. But just like a new home, you need to make sure people find your little place on the web, which is why your SEO work should start before you officially launch your site.
Here are a few of the steps to take before your site goes live, to give your SEO the kick start it deserves:
Analyze your web host's uptime stats
Anything less than 99% is a red flag, and if you're seeing major outages, consider upgrading your plan or changing hosts.
Check the reputation of your domain
Even if it's new to you, it might not be entirely new, and it's worth knowing if there are any negative marks on your home on the web.
Get an SSL certificate
Most search engines, including Google, use this as a ranking factor. It only costs a little, but it goes a long way!  This makes your site secure (https) and ensure data transfer is encrypted.
Build a responsive site
Mobile friendly websites are not optional: they're another ranking factor for search engines.
While keywords aren't as important as they used to be, keyword research is still a valuable tool. Both to make sure you're using the right words and phrases in your site and give you inspiration for content!
Internal and external links
Links are another area that has changed a bit. While lots of meaningless incoming links will only get you in trouble, high-quality outgoing links, internal links, and a few very high-quality incoming links can give your new site a boost in the rankings.
Use an SEO plugin
SEO plugins on your site can make optimizing content a lot easier. Depending on the platform you plan to use, there are a variety of SEO plugins that can keep you on track, and many of them have free versions.  You want a tool to help you edit the page title, URL, keywords, and the meta description at minimum.  It's better yet if you can evaluate the keyword phrase density.
Have a plan
Make sure that you have a content plan, and a few months worth of high-quality content written and scheduled to publish. Launching a new website is a busy time, but you don't want to forget to keep your site fresh and interesting!
Site caching
Make sure your site is caching and that you're using Gzip compression. Look for other speed enhancing plugins to make your site as light and fast as possible.
Install and activate Google Analytics on all of the pages on your site.
Use a Favicon
Make your site instantly recognizable on tabs.
Optimize your images
Make sure that they're resized to a web-friendly, fast loading size before uploading them. Resizing in the browser can slow down your site dramatically.
Use a social sharing plugin
Find a great social sharing plugin, and place it in a prominent position on every page. Your website should grow your social following and vice versa!
There are many other tweaks you can make before your website launch so you hit the ground running. But the good news is that SEO is an ongoing process, and as long as you get the basics right from the start, you can add and improve elements all the time.
Save