10 Reasons Why You Need A Responsive Web Design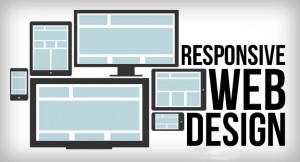 Responsive web design is an approach to website development aimed at providing customized and seamless viewing experience on all browsers and screen sizes. This is done by designing a website that adapts to different screen sizes, resolution, and platforms.
As technology continues to advance, businesses face a tremendous amount competitive pressure and need to leverage every available opportunity.  The current opportunity in web design world is responsiveness. Most recent digital marketing research shows that 87% of American adults own a cell phone, 45% own a Smartphone, and 31% own a tablet. Moreover, 9 out of 10 people move between devices to accomplish a goal. With mobile-based searches make up one quarter of all searches and research showing that 61% of people trust a brand more if it offers a good mobile experience, it paramount of have a responsive web design.
Flexible Design – The single biggest advantage of adopting responsive web design is its ability to adapt to different screens automatically. Responsive web design comes with flexible grids and images. A responsive website queries for the screen size and resolutions and generates the best possible output, optimized for the tablet, desktop, laptop, smartphone, or any other device with which it is displayed.
Seamless Engagement – Very often, mobile friendly versions of websites are stripped- down versions of the parent website. This frustrates the user in an age where users increasingly chose to access the web from different devices. A user, for instance, may stumble into an e-commerce website from his tablet in the morning, continue research through his smart phone when commuting to work, and finally make the purchase from his office desktop. A responsive website facilitates a seamless and interruption free experience throughout the journey.
Saves Times and Effort – Usually, optimizing for the web requires developing different websites for different device types, and redirecting the user to the appropriate website. With responsive web design, web content and design needs to be done just once.
Consistency – A responsive website, by ensuring that content is developed just once, does more than simply save work for the developer. Responsive websites allow businesses to adopt a unified approach to content management, allowing for consistency of voice and content.
Future-Proof Website – Developers optimize for existing users. However, with time, changes in technology render the website obsolete and at times even non-accessible until the developer makes the required upgrades. Responsive web design is future-poof, and users can enjoy a seamless experience at all times, without waiting for developers to make the required changes.
Improved Marketing – Multiple versions of the same website to cater to different devices can make it difficult to integrate various marketing programs. For example, with a responsive web design, and data from Google Analytics,  the marketer can customize web pages based on the target audience's behavior and the marketing campaign's objectives.
Better SEO – Responsive web design helps SEO efforts. A single URL for desktop and mobile sites makes it easier for search engine to discover content, and for their algorithms to assign relevant indexing properties to the content. This also eliminates the risk of the search engine flagging two different versions of the website for duplicate content. Moreover, SEO is time-consuming and costly, and a responsive website spares the hassles of duplicating the SEO chores for each different website version.
Better Local Rankings – With the rise of mobile computing, online searches looking to find local businesses and other geographically related information have become popular. Responsive web design, by making the website readily compatible with mobile devices, makes it easier for mobile users to identify and access the website when undertaking local searches.
Better Link Buildings – Running multiple versions of the same website is not ideal for link building efforts. Link building has to be done from scratch for each website version you maintain. Responsive websites are free from such hassles.
 Increase Brand Loyalty – Brand loyalty is a result of consumer behavior and is affected by a person's preferences. A responsive website, by offering consistency across the continuum of devices, helps in easy brand recognition due to smooth viewing and customer satisfaction.
Contact Digital Hill Multimedia Inc. and find out how we can make your web design responsive.
Headquarters
Goshen, Indiana 46526
888.537.0703
References
Brenner, J. (2013). Highlights of the Pew Internet Projects. Pew Internet: Mobile.
Carr, A. (2013). Tablet Users Spend 50% More Per Purchase Than Smartphone Owners. Fast Company.
Gosselin, K. (2013). Next-Gen Retail: Mobile and Beyond. Lattitude.
Green, A. (2013). State of Paid Search Report – Q4 2012. The Search Agency.