Size Guide for Social Media Images

Looking for the correct and latest 2014 social media image sizes?
Louise Myers, with Louise Myers How-to-Graphics, has done a great service outlining all the latest images sizes for the key social media networks.  It's a complete social media image size guide just for you!
This guide includes  the primary image sizes for Facebook, Twitter, Google+, LinkedIn, Pinterest, Instagram, AND YouTube.
Social Media Image Size Quick Reference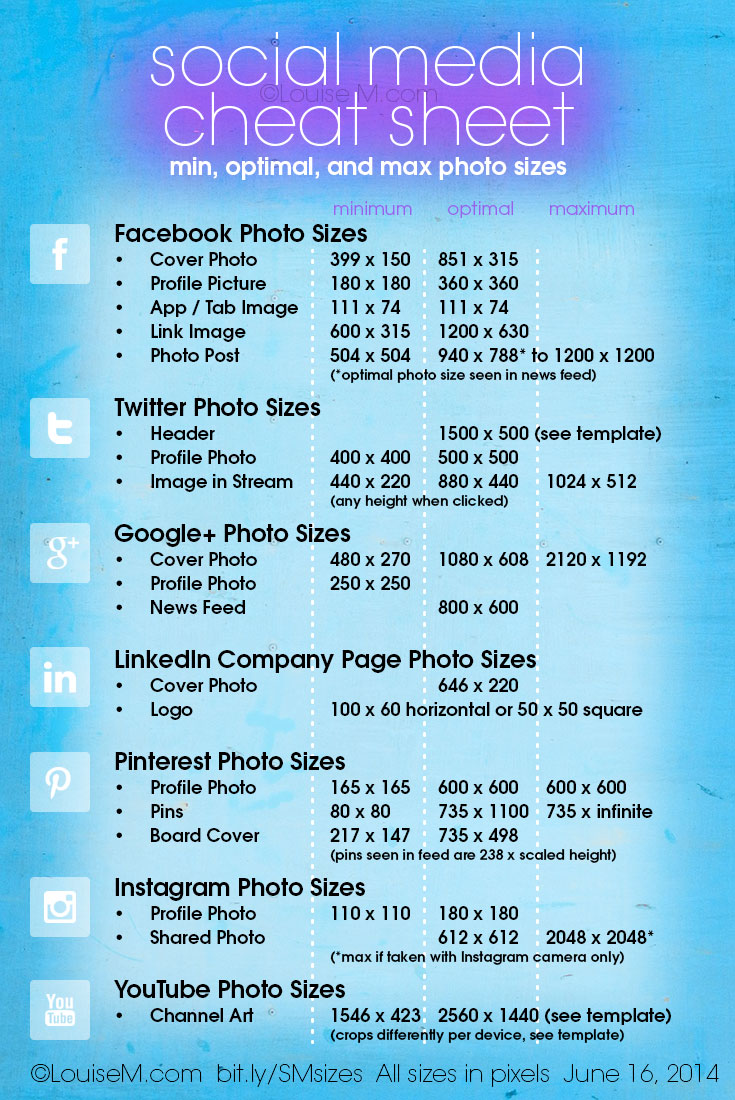 Facebook Photo Sizes
Twitter Photo Sizes
Google+ Photo Sizes
Google+ Cover photo size: 1080 by 608
Google+ Profile photo size: 250 x 250
LinkedIn Company Page Photo Sizes
LinkedIn Cover photo size: 646 x 220
LinkedIn logo size: 100 x 60 horizontal or 50 x 50 square
Pinterest Photo Sizes
Pinterest Profile Photo size: 165 x 165
Maximum pin width when clicked: 735
Instagram Photo Sizes
Instagram Profile Photo size: 110 x 110 mobile, 180 x 180 desktop
Instagram photo size: use 612 x 612 for good quality
YouTube Photo Sizes
Isn't that a great guide!  Print it and head on over to thank Louise at www.Louisem.com.
Standard Photo Sizes for Marketing Materials [Web + Print]