3 Reasons Why Smart Slider is a Great Plugin for your WordPress Site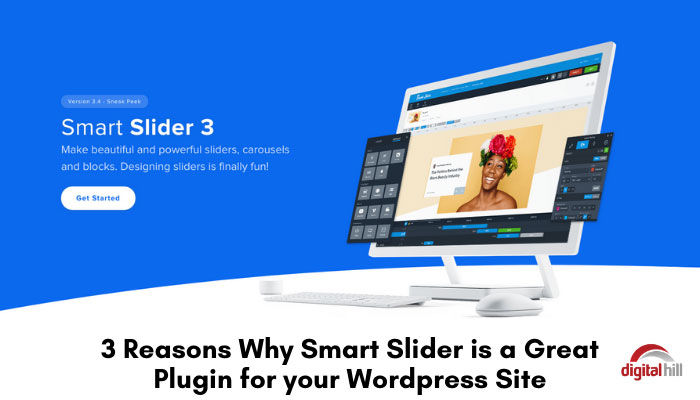 If you've used WordPress slider plugins before, you'll know just how valuable these plugins can be. Sliders allow you to display content in the form of a slideshow on any page of your WordPress website, significantly boosting user experience. A slideshow is also an excellent way to break down information into bite-sized pieces for your audience. Smart Slider is one of the best slider plugins available. With more than 400,000 installs to date and a 5-Star rating on the WordPress Plugin Directory, it stands out among the crowd. It has a stunning and easy to use user interface, not to mention the latest version, Smart Slider 3 is even better, boasting tons of premium features for your WordPress website.
How it Works
Smart Slider is installed directly from the WordPress Plugin Directory. You can create slides by selecting New Slider on the dashboard or work with a template from the Template Library. Simply put;
The New Slider option: Allows you to create slideshows from scratch
The Template Library: Allows you to customize ready-made templates
In both cases, you'll be prompted to add a slider name. You can also specify the dimensions (length and width) of the slides making them customizable for your content and website.
Why Smart Slider is Tops
Though there are many slider plugins for WordPress out there, Smart Slider stands out for three key reasons;
1. Flexibility at its best
This is perhaps the biggest advantage of Smart Slider. First off, Smart Slider is supported on four different platforms, these are WordPress, Joomla, HTML, and Magento. A few slider plugins also support Joomla. But, what's different about Smart Slider is that you can move your slides across the different platforms with the utmost ease.
Aside from supporting multiple platforms, Smart Slider offers five different slider types to choose from, Simple, Showcase, Block, Carousel, and WordPress Accordion. The different slider types allow you to fulfill different needs. Simple slides, for instance, are best for full-page slides. Block slides, meanwhile, are ideal for landing pages. Accordion slides, however, are great for showing different information or membership levels.
2. Enjoy a wide range of features
Three features that immediately come to mind are effects, animations, and dynamic slide generation. Smart Slide has many remarkable effects to help you create beautiful slideshows for amazing customer experience. The Ken Burns effect, for instance, allows you to pan and zoom your images. The parallax effect, meanwhile, creates a wonderful illusion of depth.
When it comes to animation, Smart Slider uses a powerful layer animation system to create layer motions and transitions. You can choose from 14 animation options, including background animation, text effects, and reveal animation. Finally, the dynamic slide generator allows you to create slideshows on the fly. You can create the slideshows using tweets, Facebook posts, saved videos, etc., all within seconds.
3. Elaborate template database and slide library
As if the many features aren't enough, Smart Slider also comes with a massive database of slide templates as well as a slide library. Don't confuse the two. The slide template database gives you access to templates that you can customize as you wish. The database has more than 100 templates and is sorted into multiple categories so you can find the perfect template with ease.
The slide library, meanwhile, contains slides for specific purposes. All slides in the library are available in theme kits that serve various purposes. One of the theme kits, Orion, for instance, offers eight categories of slides – in dark and light themes. The categories include header slides, product slides, and testimonial slides.
To Conclude: Smart Slider is a great plugin
The Smart Slider is a great plugin and simply different from other slideshow plugins. It makes your work easy and allows you to build striking slideshows for maximum visitor engagement. It's definitely worth a try on your WordPress website.  Need help getting this setup and implemented? Contact our team today!