5 Ways for Manufacturers to Use Social Media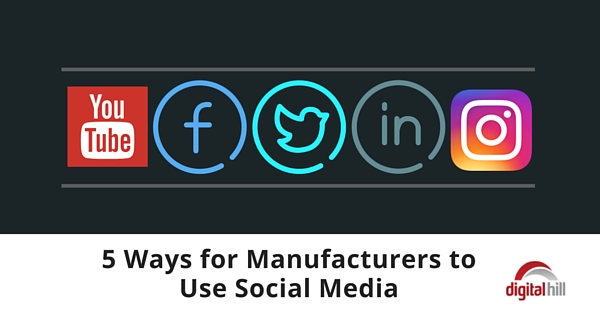 The internet and smartphone revolution has completely changed how business is done.
Billboards and newspapers were the primary means of advertising in the past, but they won't get you too far in the current market. Today, the internet is king and rightly so. With more that 85% of American adults having access to the internet and more than 81% of these people using the internet to research products and brands before making a purchase, the internet is clearly a marketing priority for any business.
Social media is one of the most effective online channels you can use for marketing online…but it's not just that. Social media is also a fairly low-cost marketing strategy. You can start using social media for marketing today with no budget!  As long as you can access the internet and setup company social media accounts, then getting started with social media is a possibility!
So, how can manufacturers use social media to market their manufacturing company?  There's a straightforward process!
1. Offer Product Overviews, Demos,  and How-To Training via Video on YouTube and Facebook
According to a recent Brightcove study, B2B companies rank YouTube as the second most effective social media network after LinkedIn for their business. Considering that manufacturing companies are mostly B2B, you should be thinking about taking your business to YouTube. The channel gets over 1 billion unique visits per month, and it's the second most-trafficked search site on the web, second only to parent company Google. Imagine what such exposure would do for your business!
Manufacturing companies can use YouTube to tell their brand stories and provide educational industry content in video format. The type of videos you create is up to you, but how-to videos and product feature videos are in the most demand.  What's more, videos do not have to be supreme, professional creations.  Social Media has made smartphone recorded videos a standard that is acceptable, even at the B2B level.
As well, Facebook is now a video consumption network as well. The amount of video watched on YouTube exceeded that of Facebook for the first time in early 2016.  With the same video uploaded to both locations, your business can reach more potential customers.  Keep the videos short and simple.  Two-four minutes can work very well.
2. Promote Your Business on Facebook
Facebook currently has more than 1 billion active users. While most of these users are consumers, there are still thousands of B2Bs on the platform.  And when you break down a B2B, it's made up of individuals, the majority of whom use Facebook!
The goal should be to get as many targeted Facebook users as possible to be aware of your company and your products. Add fans by using targeted Facebook Ads to job titles, locations and even at fans of competitors, and make sure your posts carry brand-solidifying messages.
The majority of your posts should be product photos, stats, and videos. You can also provide links to your website so users who want to know more about a product can go straight to that product's page.
3. Use Twitter to Break Company and Industry News
Twitter is another excellent platform for manufacturers. With over 400 million active users, it provides an excellent opportunity to initiate and drive conversations with your customers and prospects.
One of the best ways to use the platform is as a news channel. If you're launching a new product or have some special industry news to break, do it on this platform.  You can publish from your company account, linking to the news on your website.  As well, share new blog posts on Twitter and follow potential dealers and distributors you want to connect with further.
4. Use LinkedIn to Collaborate with Other Industry Professionals
LinkedIn, the world's largest professional network, has more than 300 million active accounts. Most people on LinkedIn are trying to connect with like-minded professionals. There are thousands of manufacturing companies and engineers on the platform, consistently sharing ideas and engaging in constructive discussions.
The easiest way to get started on the network is to create a professional LinkedIn account and join a group in your industry. With that, you can start sharing your knowledge, contributing to discussions, and answering other people's questions. It only takes a while before you're networking with experts in the industry and making quality sales contacts.
The good news is that all these are strategies you can start applying today.
5. Use Instagram to share Visual Stories
This might not seem obvious but Instagram is growing in use by adults and businesses.  Manufacturers can share images of their products in use by consumers or do up to 60-second videos where they walk through production or new models to showcase their best features. Images and videos communicate greatly, quickly, so there's a way to build brand awareness and drive traffic to your website where leads can be captured.
Many manufacturers are ramping up their online and social media marketing and for good reason.  It's where the people are!  It's a chance to grow your targeted audience and then communicate to them on a regular basis.  With a thorough strategy, social media can be a key part of the online marketing funnel to grow leads and sales.