Aesthetics vs. Usability in Web Design
[fusion_builder_container hundred_percent="no" equal_height_columns="no" menu_anchor="" hide_on_mobile="small-visibility,medium-visibility,large-visibility" class="" id="" background_color="" background_image="" background_position="center center" background_repeat="no-repeat" fade="no" background_parallax="none" parallax_speed="0.3″ video_mp4="" video_webm="" video_ogv="" video_url="" video_aspect_ratio="16:9″ video_loop="yes" video_mute="yes" overlay_color="" video_preview_image="" border_size="" border_color="" border_style="solid" padding_top="" padding_bottom="" padding_left="" padding_right=""][fusion_builder_row][fusion_builder_column type="1_1″ layout="1_1″ background_position="left top" background_color="" border_size="" border_color="" border_style="solid" border_position="all" spacing="yes" background_image="" background_repeat="no-repeat" padding_top="" padding_right="" padding_bottom="" padding_left="" margin_top="0px" margin_bottom="0px" class="" id="" animation_type="" animation_speed="0.3″ animation_direction="left" hide_on_mobile="small-visibility,medium-visibility,large-visibility" center_content="no" last="no" min_height="" hover_type="none" link=""][fusion_text columns="" column_min_width="" column_spacing="" rule_style="default" rule_size="" rule_color="" hide_on_mobile="small-visibility,medium-visibility,large-visibility" class="" id=""]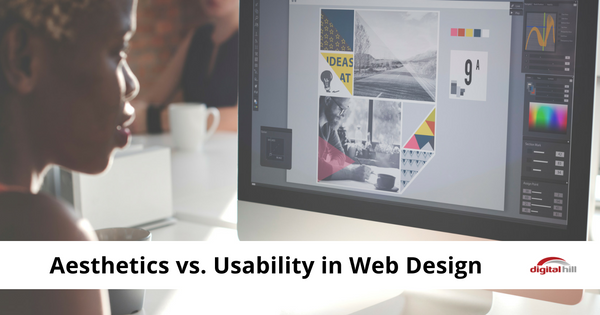 When it comes to your website, a site that's easy to the eye will leave a positive, lasting impression. First impressions matter on the web where people make decisions in seconds on whether to stay or go!  And while it's easy to get carried away with design extravagances that look cool, you must always keep usability in mind. Let's take a closer look at aesthetics vs. usability in web design.
If you're selling a product or service, a great looking website can help convert browsing visitors into paying customers. That is unless it gets overly complicated. Even if your website is an artistic masterpiece aesthetically, users will leave if they experience:
Pages that are slow to load
Dead links, too much scrolling, or other errors and bugs
In UX Design, Functionality and Aesthetics Go Hand in Hand
One thing you mustn't do is treat the aesthetics of your website separate from the functionality. The aesthetics of your web page involves its visual design and desired appeal. The usability is, of course, the features and functions.  Usability and aesthetics should be treated as equals.
Natural, Logical and Consistent — Three Important Characteristics
While your website's code is written in seemingly unnatural languages, rendered and displayed by web browsers, your audience is human. Before a website is displayed for the public, it must be tested. It must be tested again after every modification. During the testing process, factors to check for are:
Consistency; making sure each element correlates with each other.
Your website should have a "natural feel" to its layout. Avoid anything overly rigid or sharp contrasting edges.
A website's layout should simply make sense. Each element, button, link or application should be in areas users would actually look for them.  Intuitive processes are key!
Creating Immediate Interest Is Essential
There are a lot (over a billion!) websites available to the public. If users visit your website and have questions as to its purpose, it's practically guaranteed they're going to leave. Here's a list of things that are likely to help first-time viewers convert into customers:
Highly visible, high-resolution images related to your website's core offerings.
Clear, appropriately sized, legible text.
A usable, well-organized layout that makes navigation intuitive and smooth.
Having a clear call to actions on display, such as showcasing a well-maintained store or catalog, or prompting them to register for a newsletter.
Offering a simple, but clear soft-lead-capture offer.
The most central reason for launching a website is to engage users into taking some sort of action. Web and UX design don't only include factors such as color, shading or animations. Usability, mobile responsiveness, and purpose are equally as important.
If your website looks aesthetically pleasing and users are leaving about as quickly as they arrive, you'll probably need to give its functionality a second review!
How's your website performing?  If you have questions, we can help.  Yes, we are WordPress experts.  You can view our profile on WordPress Website Design Companies on DesignRush.
Save
Save
Save
Save
[/fusion_text][/fusion_builder_column][/fusion_builder_row][/fusion_builder_container]