Affordable Small Business Website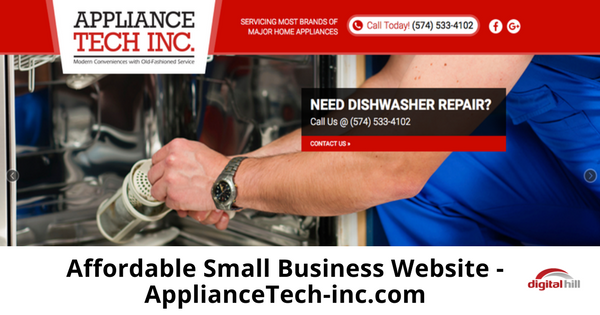 In the modern world, virtually all businesses need an online web presence. When searching for information regarding a company or product, the first place many people will look is via a Google Search. Websites, however, can seem like a big hurdle, especially for a small business.
Designed by Digital Hill, Appliance Tech Inc.'s new one-page website is simple, affordable, professional and manageable.  It takes helps you overcome the website hurdle with a website that meets all your small business needs.
Small Business Website Features
SEO tools – SEO is a determining factor on where a site ranks in Google. SEO also affects the amount of site traffic. The SEO tools (accessible through the CMS system) allows content creators and admins on the site to customize site metadata, domain names, keywords, H tags, and page titles according to the best SEO practices.
Responsive design – As a mobile responsive site, ApplianceTech-Inc.com offers a great user experience on any device, mobile or desktop.
Simple CMS System – There is no need to know how to code with this back-end system. Digital Hill's CMS system puts control of practically the entire site into the hands of the page's admins. Editing of the image gallery and contact form are easily performed. If the business wishes to add an about page, for example, it can be accomplished in a matter of minutes with site-appropriate templates.
Contact Form –  Visitors can get more information, purchase services, or leave a comment, can use the contact form.
A Good Example of Starter Site
The website design is simple and straightforward, providing visitors with an attractive and easy-to-navigate layout. The image gallery takes up much of the page and is effective in showing potential clients technicians in action. Thus serving as a preview of the services provided while immediately providing a link to a contact number. The footer and navigation bar give the site more branding power with the logo, social media profiles, phone number and to-the-point copy present.
ApplianceTech-Inc.com is a good example of a starter site. Featuring ease-of-use for both the customer and the business managing it. Digital Hill's CMS system provides the tools to expand a site as needed. The one-page site serves as Appliance Tech Inc.'s portal to a much wider audience and customer base. Small businesses looking to get on the internet quickly and cost-effectively can look to Appliance Tech Inc's example. This website offers all a small business needs in an online presence without the high costs.