Al-Bar.com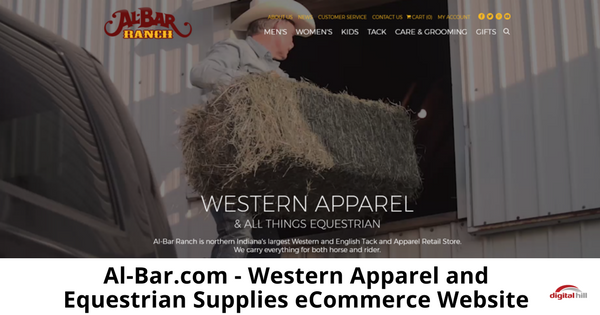 For over 40 years, Al-Bar has brought the best of Western and English tack apparel to Northern Indiana. At Al-Bar, you can find a wide range of products for the horse and rider. With their newly designed website, Al-Bar.com, Al-Bar can now bring western apparel to the world on any device.
A design feature of the site includes the easy for customers to quickly and effortlessly find products or services. Whether it's hunting boots, saddles, or horse treats, a rider can find most of what they need in the drop down navigation bar menu.
If they can't find a product by glancing through the navigation, the site includes a search feature. Beyond the basics, the new Al-Bar website stands out with several features:
Mobile Responsiveness
Riders on-the-go now have the ability to browse Al-Bar.com with their mobile phone. Visitors to the site receive a seamless web experience.
Whether they are on a smartphone or tablet, visitors won't be hampered by clunky, slow, or incompatible design while trying to browse on the small screen. Mobile-friendly sites are useful for the customer, and mobile responsiveness is preferred by Google.
Video
Imagery delivers a message faster than text. The homepage of Al-Bar.com, offers a dynamic video. In a few frames, the video gives the client a feel for the values Al-Bar represents – hard work, resilience, and self-reliance.
Coupons
As a marketing strategy, discounts, deals, and coupons attract consumers to your site. With announcements in the news section, the site can announce upcoming and current coupons to encourage people to buy products.
eCommerce
A big sector of shopping is online. Businesses have been increasingly looking into developing eCommerce solutions for their websites.  As a result of this new design, Al-Bar.com allows customers to shop online, selecting items as they move around the site.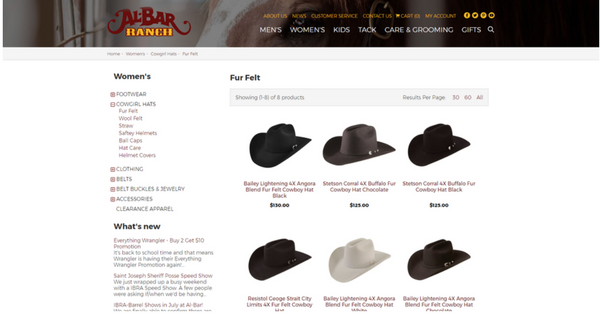 When they've found the items they're looking for, they can review their items in the shopping cart before buying. At the shopping cart, they can add or remove items, change quantities, and check out.
This eCommerce website gives the site admin the ability to update product descriptions, therefore, consumers get a sense of what they're buying (and why they want to buy it) and add new products.
Al-Bar's new site was created by Digital Hill, a web solutions provider that's been in operation for nearly 20 years. If you're interested in a new site, implementing eCommerce, or a host of other services, reach out to Digital Hill.