How Businesses can use BigCommerce Cart Integration with WordPress for Online Sales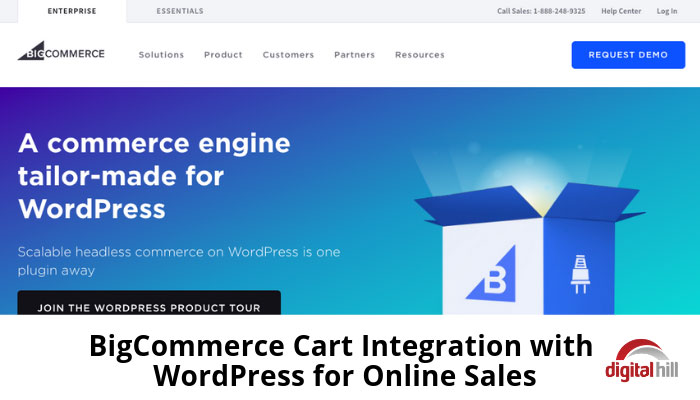 WordPress is currently the most popular content management system (CMS) in the world- commanding a global share of 60% within this market. Because of this, many small businesses use WordPress to establish their online presence and market their products. With the numerous features available, your business can take advantage of these resources to develop and grow its brand over time. WordPress also offers more than just attractive templates, secure web hosting, and SEO. The site also integrates with multiple plugins that can add functionality in various different ways. There are plugins available for SEO, email forms, statistics monitoring, media, and more. Perhaps the most exciting plugin yet is the BigCommerce Cart Integration plugin, which is tailor-made for WordPress.
This plugin is a scalable e-commerce tool from the giant BigCommerce team that can handle order management, inventory, and payment processing on your behalf. You can instantly turn your brick and mortar store into an online platform. Thus making it even easier for customers to access your products and services.
Commerce as a Service for small businesses
You may be wondering how an e-commerce plugin works, and why you need one for your company. Many small businesses currently don't have the necessary infrastructure to handle e-commerce efficiently. Is your WordPress site is attracting a lot of traffic? Are customers are looking for a way to access your products? Installing an e-commerce plugin can be one of the best decisions you'll make.
E-commerce systems like BigCommerce are a form of Commerce-as-a-Service. Wherein you pay a regular fee to have these processes handled by a third party. Commerce-as-a-Service empowers your business to focus on the front-end user experience. Furthermore having back-end processes dealt with in a professional, secure, and scalable manner.
Commerce-as-a-Service will take care of routine processes that may otherwise hold back growth and service delivery, leaving you to focus on your customers.   The "As-a-service" component means your system never gets outdated and continually has updates and new features being added.
What is BigCommerce?
BigCommerce is a Commerce-as-a-Service web system that now seamlessly integrates with WordPress. It is hosted on the Google cloud platform and can be integrated with your site to add functionality for your business in many different ways. As long as you have a functional WordPress site, you can purchase and add this plugin to enjoy a smooth and efficient e-commerce experience.
How it works
BigCommerce stands out from other similar plugins because it makes scalability, security, and customization much easier to achieve. You can implement a headless e-commerce framework in a short amount of time. As well you can also use this plugin on multiple stores and with complex APIs. This means that you have the ability to extend, connect, and customize the e-commerce experience to suit the needs of every customer.
For example, if you sell clothes and surfboards, BigCommerce allows you to tailor the user experience to each product line. With the ease of maintaining control from one central panel. Meaning, you can manage product catalogs, customer orders, shipping requests, and payments- all from one place.
After spending time developing your WordPress site, let the BigCommerce plugin handle your shopping cart from the time a product is added until it's shipped out to your customer.
How BigCommerce for WordPress can benefit your business
The WordPress CMS powers most internet traffic, with 2.7 million searches conducted every month. Once you have built your WordPress site and established an online presence, the BigCommerce Cart integration plugin can help you take your e-commerce activity to another level.
With this plugin installed, you will enjoy the following benefits:
Better product catalogs that draw traffic and increase online orders
A more efficient payment processing system that allows you to save on costs while remaining compliant with data security laws
Free up company resources by using the cloud-based BigCommerce plugin to handle order processing
Customize the e-commerce process to fall in line with your specific goals
BigCommerce is a helpful tool for businesses to utilize on their WordPress site to help expand their sales from in-store to online.