AS/400 Data Integrations for Manufacturers Websites
[fusion_builder_container hundred_percent="no" equal_height_columns="no" menu_anchor="" hide_on_mobile="small-visibility,medium-visibility,large-visibility" class="" id="" background_color="" background_image="" background_position="center center" background_repeat="no-repeat" fade="no" background_parallax="none" parallax_speed="0.3″ video_mp4="" video_webm="" video_ogv="" video_url="" video_aspect_ratio="16:9″ video_loop="yes" video_mute="yes" overlay_color="" video_preview_image="" border_size="" border_color="" border_style="solid" padding_top="" padding_bottom="" padding_left="" padding_right=""][fusion_builder_row][fusion_builder_column type="1_1″ layout="1_1″ background_position="left top" background_color="" border_size="" border_color="" border_style="solid" border_position="all" spacing="yes" background_image="" background_repeat="no-repeat" padding_top="" padding_right="" padding_bottom="" padding_left="" margin_top="0px" margin_bottom="0px" class="" id="" animation_type="" animation_speed="0.3″ animation_direction="left" hide_on_mobile="small-visibility,medium-visibility,large-visibility" center_content="no" last="no" min_height="" hover_type="none" link=""][fusion_text]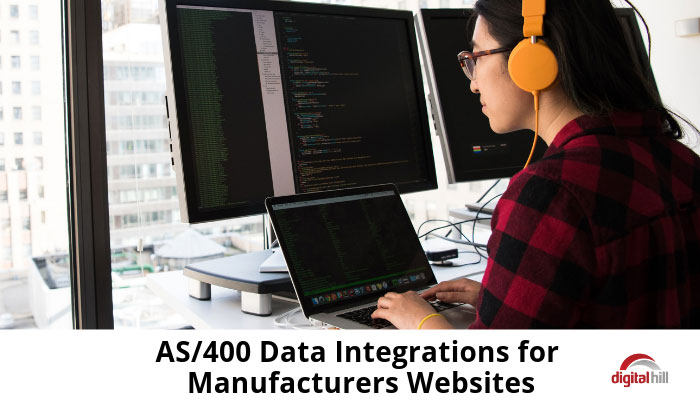 The AS/400 by IBM is one of the most common computer lines used in business and has seen many refreshes and updates since it was first released in 1988. Despite being an "aging" system, the AS/400 line is still found running many important processes in several different industries today. AS/400 systems manage things such as manufacturing systems and BOMs, product catalogs, warehouse fulfillment systems, and even finances.
The AS/400 is a specialized tool and not meant for every aspect of the consumer process such as companies that specialize in non-standard commerce. However, for businesses that want to offer more such as a dealer or consumer online buying experience, there are web development companies like ours that can work with your AS/400 system data and enable the online web experience for your customers.
Adding a web portal gives your customers access to a modern feature rich buying experience while still making use of the data in your tested and stable AS/400 platform.
Here are six important steps for AS/400 data integrations and Shopify Plus.
Integrating a Website Portal With An AS/400 System
Building The Online Portal
The first step is building a suitable online website and/or dealer portal to work with your existing AS/400 data. No two companies are the same. Hence your web system is custom to fit your specific needs. It will communicate back and forth with the AS/400 and the two systems will share information and sync data. The details are worked out in the conversations ahead of time between your data team and the web development team.
Organizing Data
Keeping data organized in a two-party system requires deciding which system should house which data, how, and when. The AS/400 is more suited for more back end information such as SKUs, prices, and stock levels. While the website system can pull from this and allow online ordering, warranty registrations, and more. And push this information to the AS/400.
Two-Way Data Flow
Communication cannot be one way as both. Your AS/400 and the website application need to share data back and forth as changes are made in real-time. If communication and data only go one way, then issues will quickly occur as one database becomes outdated and incorrect.
Testing Processes
A thorough testing process is a key to integrating an AS/400 and website system. The two key items to test are database copying and making any updates in real time. The two databases need to communicate seamlessly back and forth. If the process is too slow, doesn't work, or isn't easy to produce the system will not work for your day to day tasks. This is where a seasoned web development team with experience with many integrations will be your best partner.
Database Triggers And Updates
One of the most important parts of a successful website system and AS/400 integration is keeping the two systems in sync. There are several different ways to do this. For example, you can have the website system integration layer perform on a cron. Then check the AS/400 database for any changes every few seconds. Next, make any updates when changes are found.
On the other end, you can have a webhook and have the AS/400 alert the website system when changes are made. Thus triggering an update to the app's listings when changes are entered.
In summary, the AS/400 is good at what it does but it's not typically ready for the web demands of today's manufacturers. Find a web development partner that has created many web implementations for dealer ordering, customer ordering, warranty registrations, dealer management, warranty claims, and more is an important consideration.
Contact our team today to discuss your needs and goals and how we can help your data get online to meet the demands of today and tomorrow.
[/fusion_text][/fusion_builder_column][/fusion_builder_row][/fusion_builder_container]