Dealer Parts Ordering Systems
Does your company have dealers or distributors?
Are you tired of faxes and phone calls taking precious time that could be better used elsewhere?
Enter a Solution: Dealer Parts Ordering Systems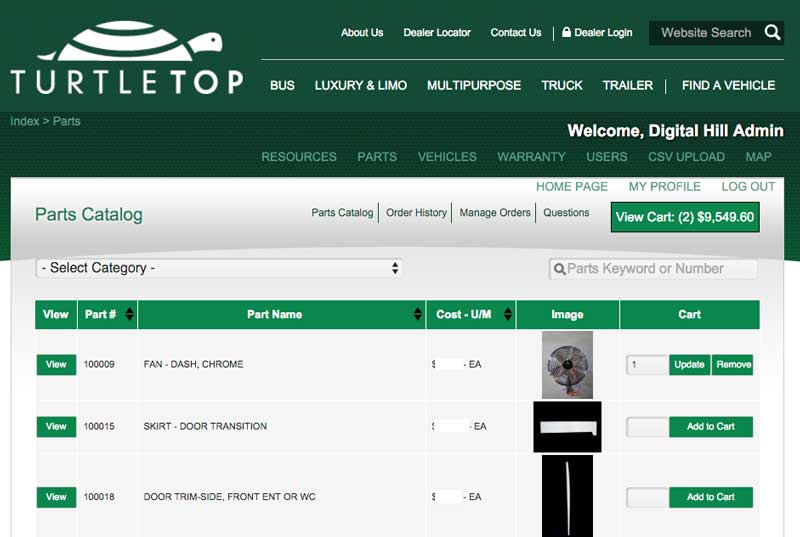 Manufacturers and other businesses are moving their parts and warranty management systems to web-based solutions that let dealers and distributors order themselves online.  This saves customer service and support time, and drastically cuts back on faxes and phone calls. Your dealers will be happier as their part needs are expedited from the source.
A web-based dealer parts ordering system offers private e-commerce transactions and provides a dealer pricing structure with no public access.
By managing inventory and parts online, the items are updated in real time.  The ordering system can accept credit card or PO's, allowing efficiency that saves costs and time.
Digital Hill has been building web-based dealer ordering systems, parts systems, and warranty systems for over 8 years. We can help your business find an efficient solution and offers your products to dealers and distributors online.
Your parts ordering system may integrate with your primary inventory database, so your existing parts system maintains your inventory and the web system pulls in the data.  It's all about meeting the needs of each business and their particular use scenarios.
Manage Catalogs and Order Status:
Your part catalogs can be online.  Different pricing systems for dealer or distributor levels can exist, and other custom rules can be programmed to apply.  The system would manage orders, processing, packaging, and shipping, giving admins and the dealers access to the status of orders.
Does this sound like something that your business could benefit from? Give us a call and let's have a conversation about your needs.