Everything You Know About Marketing Has Changed Part 1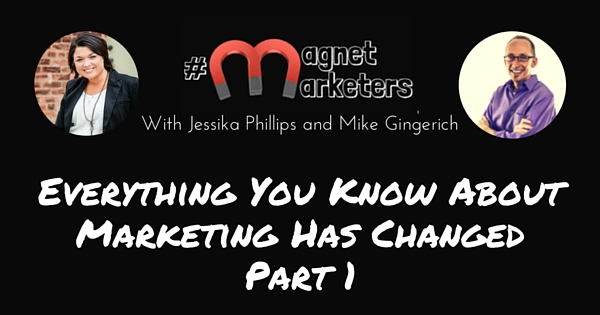 There was a time when marketing consisted of having a good product, shoveling out consistent advertising to get in front of people via print, news, and billboards, and then letting leads call in. Nowadays if you do that – you run the risk of not selling anything at all; learning the new rules of the marketing paradigm shift is essential for a successful business.
Personalize, Personalize, Personalize!
From reading your blog to asking questions in the comments, your audience wants to feel as though they have your attention. The easiest way to make sure you're on the right track is to ask yourself: "Am I speaking to a particular person or a vague group of people at every stage of my pitch?"
Make sure you're talking as if they are real people; because, guess what – they are<! Don't send out generic form emails; inboxes are littered with spam, and your email won't get a second look. Make sure your email is personalized, calls them by name, and guides them through the sales process in a helpful way where you are answering their questions.
Your Customer is Your Friend
To be successful in the current and future climate, you've got to give up the business to human approach and treat your prospective clients as friends, the human to human approach. After all, you're building a relationship that you hope will last for years. This approach is successful, take a look at the phenomenon of mommy bloggers. Moms gravitated in droves to these bloggers and has made them wealthy beyond measure! Referral purchases are very successful because moms trust the products that other moms use and recommend.
What the Numbers Say
The numbers support the human to human approach. Forbes reports that 92% of consumers ask their friends or acquaintances about the products and services they use before making a decision to purchase. This clearly beats out every other source of referrals and helps point your business in the right direction for that human to human approach you should be adopting. Find influencers to try your product and pitch it to their social networks; this can result in a whopping increase in conversion rates – anywhere from triple to 10 times whatever you were making!
Additionally, the numbers also strongly hint at the importance of women as influencers. Women are big consumers. Up to 20% of women buy based on what an influencer says, with 77% of consumers more likely to purchase from the same producer the influencers buy from.
Final Thoughts
Change your marketing tactics to reflect the present climate – it doesn't matter what type of business you're in. Authenticity is priceless; be unscripted when marketing online and using video via Facebook or social media. It never hurts to peek at what other successful brands are doing – they're almost always ahead of the curve.