Facility Star Online Booking Software
[fusion_builder_container hundred_percent="no" equal_height_columns="no" menu_anchor="" hide_on_mobile="small-visibility,medium-visibility,large-visibility" class="" id="" background_color="" background_image="" background_position="center center" background_repeat="no-repeat" fade="no" background_parallax="none" parallax_speed="0.3″ video_mp4="" video_webm="" video_ogv="" video_url="" video_aspect_ratio="16:9″ video_loop="yes" video_mute="yes" overlay_color="" video_preview_image="" border_size="" border_color="" border_style="solid" padding_top="" padding_bottom="" padding_left="" padding_right=""][fusion_builder_row][fusion_builder_column type="1_1″ layout="1_1″ background_position="left top" background_color="" border_size="" border_color="" border_style="solid" border_position="all" spacing="yes" background_image="" background_repeat="no-repeat" padding_top="" padding_right="" padding_bottom="" padding_left="" margin_top="0px" margin_bottom="0px" class="" id="" animation_type="" animation_speed="0.3″ animation_direction="left" hide_on_mobile="small-visibility,medium-visibility,large-visibility" center_content="no" last="no" min_height="" hover_type="none" link=""][fusion_text]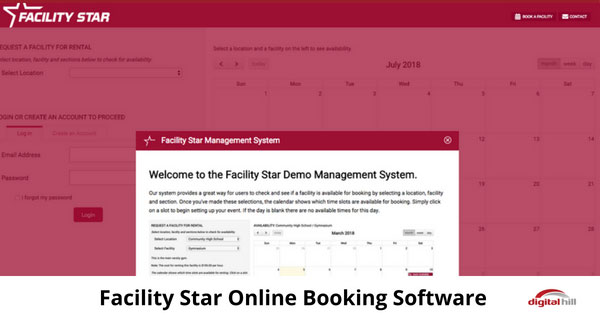 Many organizations rent out space, rooms, or specific venues as part of their daily business activities. This presents some unique challenges. Managing the bookings with an Excel spreadsheet is both time-consuming and can create more problems than it solves. This is where Facility Star Online Booking Software can help.
Facility Star can be used by churches, schools, local parks, hotels and other venues that seek to allow outside parties or internal parties to reserve rooms, space, gyms, etc. It works with any facility that rents lots of different rooms at multiple times during the day. The type of facility being rented is able to be outlined and identified by the users as part of the process.
Why Use Facility Star Online Booking Software?
Inform The Public
An important part of filling rental venues is letting people know that it's available in the first place. It's a very specific need but weddings, meetings, and corporate events occur every day. By listing your rental openings on an easy to view calendar people looking for a place for their event can easily book the space.
Bring Customers To You
You don't rent a facility on a whim. A lot of research goes into renting a space. Due to events needing a specific amount of space, occupancy concerns, equipment setup, and other factors. For example, if you need to have your event outdoors that eliminates a lot of options and narrows down your search.

Easy To Book
Facility Star Booking Software is an easy tool for both organizations and people making reservations. On the user side, you won't have to worry about confusion as this booking software uses a calendar layout with hour blocks that make reserving a venue simple. As an organization, you'll be able to manage time blocks and keep track of reservations easily.
Long-Term Reservation Management
An issue for facilities reservations is organization. You don't want to double book or misplace someone's reservation. By using booking software records are automatically maintained and reservations are kept in order. This keeps information from being lost or filled incorrectly.
Works For Both Free And Per Hour Online Booking
With Facility Star Booking Software you don't have to charge for the facilities. Many organizations like charities, religious institutions, and school properties don't require hourly rental fees. Does your venue require hourly fees to rent a location? Facility Star Booking Software shows renters the price before confirming the reservation.
Final Thoughts
The Facility Star Web Management System saves you a lot of work. Managing your facility reservations isn't an easy task. Software, in general, has to be regularly tested, updated, and designed to work on the different platforms. Records have to be maintained and the public informed what hours are available. With the Facility Star Management System, you have an all in one solution that saves you time and work. It not only allows you to publicly list what openings you have but also collect reservations, keep detailed records, and charge fees.
Interested in talking further?  Give us a call or complete our Contact form.  Want to try it out? Visit the demo.
[/fusion_text][/fusion_builder_column][/fusion_builder_row][/fusion_builder_container]