Financial Service Business Transforms Online Business Services
Wealth Financial Group came to Digital Hill wanting to transform their business, literally.
From name to style and a massive upgrade in online Advisor features, the list was forward thinking!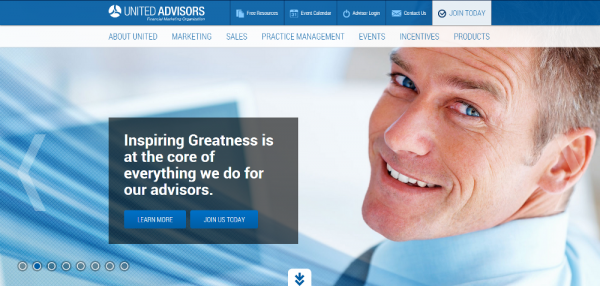 Their list of changes included:
New Business Name and website domain to implement
New branding and business identity
More services & resources to Advisors in their Network
Goal of transforming web presence with responsive website
Robust backend features for themselves and Advisors
Digital Hill was prepared for the task and dove into implement a new website system with one central backend manager area allowing them to control three different domains.
The old WFG Network Site:
The old site included flash on the home page. This was great for the early 2000's but with the growth of Apple devices that would not support flash this was a tool that needed to go!
The New United Advisors Website System
The new site was developed according to the latest web trends and features.  It featured a full width layout and parallax style home page to capture the eye of the user and allow them to easily learn more in various sections on the first page.  The site was designed to be responsive, enabling desktop, tablet, and mobile users to navigate the site easily.
Beyond the new look, the manager area was built new from the ground-up.  The client has access to manage pages, news articles, and administrate multiple sites from the one manager area.  As part of the new web system the Personal Wealth Index money management question was expanded into its own site, and a new event site was created, Register Connect, to empower the United Advisors network to create event pages, manage registrations, and download attendee data.
The backend management system allows United Advisors to manage their 300+ network of financial advisors easily, with a business tracker, advisor contact management, and business reporting system that allows management and advisors to access various tools, features, and reports according to their different permission levels.
Digital Hill is proud of the fact that United Advisors is saving money due to the robust web features that are included in the backend web systems.  It's a thrill to help clients save money and time by implementing web-based solutions that brings the office online and accessible 24-7 from any Internet connection.
Is your business needing a redesigned site, or wanting to expand to include more web-based features for clients, dealers, distributors, or more?  Contact us today!