Jetpack for WordPress
[fusion_builder_container hundred_percent="no" equal_height_columns="no" menu_anchor="" hide_on_mobile="small-visibility,medium-visibility,large-visibility" class="" id="" background_color="" background_image="" background_position="center center" background_repeat="no-repeat" fade="no" background_parallax="none" parallax_speed="0.3″ video_mp4="" video_webm="" video_ogv="" video_url="" video_aspect_ratio="16:9″ video_loop="yes" video_mute="yes" overlay_color="" video_preview_image="" border_size="" border_color="" border_style="solid" padding_top="" padding_bottom="" padding_left="" padding_right=""][fusion_builder_row][fusion_builder_column type="1_1″ layout="1_1″ background_position="left top" background_color="" border_size="" border_color="" border_style="solid" border_position="all" spacing="yes" background_image="" background_repeat="no-repeat" padding_top="" padding_right="" padding_bottom="" padding_left="" margin_top="0px" margin_bottom="0px" class="" id="" animation_type="" animation_speed="0.3″ animation_direction="left" hide_on_mobile="small-visibility,medium-visibility,large-visibility" center_content="no" last="no" min_height="" hover_type="none" link=""][fusion_text]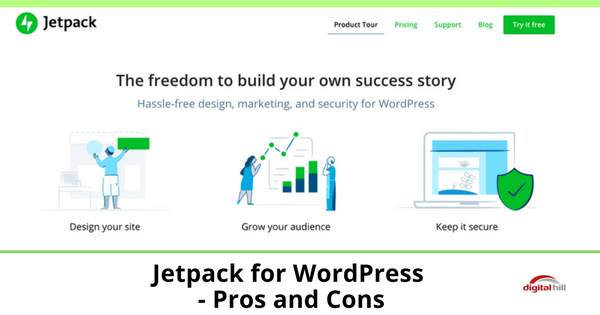 The WordPress Jetpack plugin comes with many features for your website. The creators of WordPress, Automattic, are the ones who developed this plugin. You can find this plugin on countless sites, and it has many features, but is it worth adding to yours?
Jetpack for WordPress Basics
This toolkit encompasses many features that website owners need as a foundation for their site. The full functionality list is a bit overwhelming, but here is a quick list of what Jetpack is capable of:
Theme installation and management
SEO
Spam filtering
Site backups
Site optimization
The basic Jetpack features are free. But more advanced features, like site backups, are part of the paid Jetpack plugin.
Let's figure out if Jetpack the right choice for your goals and your website.
Pros: Jetpack for WordPress
Jetpack is an all-in-one plugin that encompasses many WordPress features most websites need. The caching features are excellent, especially if you have a high volume site.
The security features are another major benefit. Since WordPress is the most-used content management system in the world, (It runs approximately 29% of all the world's websites), it gets a lot of attention from hackers. While staying up to date with the latest WordPress updates may eliminate most vulnerabilities, having an extra layer of protection through Jetpack is critical. Many vulnerabilities aren't found until they are an issue. The additional layer of security you get from Jetpack will eliminate most worries.
Downtime monitoring will alert you to issues that take your site down and render it inaccessible. Since you want to avoid downtime as much as possible, getting a quick warning can help you speed up the troubleshooting process.
Site analytics, social sharing, related posts and other marketing features work well for fueling site growth and streamline the manual tasks required to promote your posts after you write them.
Since Automattic, the company that owns WordPress, created this plugin, you don't have to worry about it being neglected or missing security updates. Frequent improvements and patches keep this plugin going strong.
Cons: Jetpack for WordPress
Jetpack sounds wonderful on the surface, as it brings many of the best WordPress. com performance features to self-hosted WordPress websites. However, whether it's the right choice for your site or not requires a closer look.
The all-in-one approach is the biggest boon and bane for Jetpack. If you don't have any best-in-class favorites in the categories that it covers, then it's a no-brainer to get all of that handled at the same time.
However, Jetpack's advantages start to drop off if you have a robust plugin load and you're only after a handful of the features. While you can toggle everything off and on as needed, it's still taking up resources that a single purpose plugin doesn't.
The other big disadvantage is the price if you want to use any of the advanced features. While the baseline offerings are handy, the power user tools are locked behind paid subscriptions. If you're already juggling other paid plugins, you may find it difficult to fit Jetpack into your budget.
There's no clear-cut answer on whether Jetpack is worth it for your site. Consider the pros and the cons as they apply to your unique situation, and choose the option that serves your short and long-term goals. Need help deciding?  We can consult with you and make recommendations or do full/partial setups.
[/fusion_text][/fusion_builder_column][/fusion_builder_row][/fusion_builder_container]