Manufacturer New Website Development for Bando USA
[fusion_builder_container hundred_percent="no" equal_height_columns="no" menu_anchor="" hide_on_mobile="small-visibility,medium-visibility,large-visibility" class="" id="" background_color="" background_image="" background_position="center center" background_repeat="no-repeat" fade="no" background_parallax="none" parallax_speed="0.3″ video_mp4="" video_webm="" video_ogv="" video_url="" video_aspect_ratio="16:9″ video_loop="yes" video_mute="yes" overlay_color="" video_preview_image="" border_size="" border_color="" border_style="solid" padding_top="" padding_bottom="" padding_left="" padding_right=""][fusion_builder_row][fusion_builder_column type="1_1″ layout="1_1″ background_position="left top" background_color="" border_size="" border_color="" border_style="solid" border_position="all" spacing="yes" background_image="" background_repeat="no-repeat" padding_top="" padding_right="" padding_bottom="" padding_left="" margin_top="0px" margin_bottom="0px" class="" id="" animation_type="" animation_speed="0.3″ animation_direction="left" hide_on_mobile="small-visibility,medium-visibility,large-visibility" center_content="no" last="no" min_height="" hover_type="none" link=""][fusion_text columns="" column_min_width="" column_spacing="" rule_style="default" rule_size="" rule_color="" class="" id=""]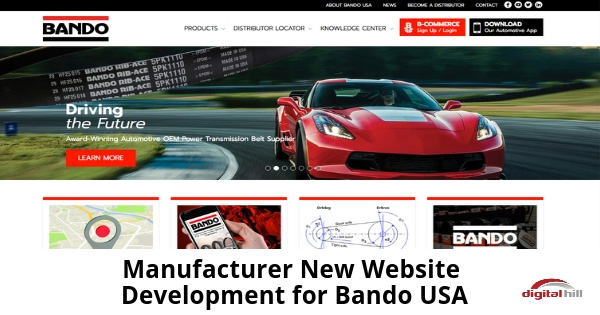 Quality. Service. Value. Those are the 3 defining words of leading automotive and industrial transmission belt manufacturer, Bando USA.
In conjunction with Digital Hill, Bando USA is taking their services to the next level on the web. The rehaul of their website will be the new digital interface between the world and the Bando USA brand.
Welcome to Bando USA's Brand Redesigned Site
With a brand new site update, the company is able to provide even more quality service to manufacturers worldwide. Designed with the needs of manufacturers in mind, the site represents the Bando USA's constant innovation and dedication to providing quality service.
Streamlined and simplified, the new BandoUSA.com doesn't make time-crunched visitors waste time to click through links. Instead, they can navigate through a clear website that packs valuable content.
Brand New Design, Same Core Value
The newest incarnation of the site also has a marked improvement over the old ones – a modern design. Therefore, with Digital Hill's help, Bando USA.com employs the latest in web design principles for maximum effect.
The site includes:
Easy Navigation
Quick to Scan
Mobile Friendly
Unified Color Scheme
Uncluttered Navigation Bar
These standout features are more focused in the redesign.
Manufacturer Web Product Catalog
Bando USA's productivity and technological innovation have led them to manufacture high-performance products for decades. Hence, the site includes a categorized catalog of specialty products with product descriptions and galleries that can be easily edited with a content management system. This makes it easier for new customers to see Bando USA's offerings and learn more about the company.
News
It's an exciting time and there's a lot going on at Bando USA corporation. Bando USA's blog keeps customers updated on new products, industry news, and company developments while ranking higher in the search engines.
Manufacturer Website Knowledge Center
Bando USA's mission to provide value doesn't stop at just manufacturing their products. Their Knowledge Center gives access to past, present, and future product information with specs and photos readily available.
Manufacturer Website Distributor Locator
The most impressive feature of the website is the distributor locator lookup.
With over a dozen manufacturing plants in several countries, having a distributor locator is an invaluable tool for other manufacturers in need of Bando USA's products.
Customers looking to purchase belts or maintenance tools don't need to spend hours calling around or waiting on an email response.

 Instead, the addresses, numbers, and sites of their industrial or automotive distributors are easily found with a simple search.
The embedded Google Maps provide a great interface for getting clear directions to the 4 nearest locations. Visitors can select the radius they wish as well as the type of distributor they are seeking.
The Digital Hill Web Difference
Bando USA has been a leader in manufacturing transmission belts for years. Now, Digital Hill has produced a website that is easy for the company to manage and will provide consistent value for both them and the manufacturers they work with for years to come.
Like Bando USA, Digital Hill has worked over the decades to help solve their client's online and web needs. If your business is in need of web development and E-commerce, we can get started today!
[/fusion_text][/fusion_builder_column][/fusion_builder_row][/fusion_builder_container]